Cristiano Ronaldo and Luis Suarez Would Be Ideal Partners At Juventus, Suggest Ariedo Braida
Ariedo Braida says that Cristiano Ronaldo and Luis Suarez are both natural winners and, as a result, won't have a problem playing together at the Allianz stadium. The former Barcelona director admits that Suarez has the Juventus 'DNA' and suggests he would be an ideal strike partner to Cristiano Ronaldo.
In the recent weeks, the rumors circulating about Luis Suarez joining the Italian giants from FC Barcelona has intensified.
Even Italian media reports that the Uruguayan forward has agreed to personal terms with Juventus. However, what is holding up the deal is paperwork as the striker waits on his Barcelona side to terminate his current. So Juventus will be hoping to sign the 33-year old attacker on free, although Barca will be aiming to get some compensation.
Reports also claim that Luis Suarez has even applied for an Italian passport, which is also one of the issues that are slowing down his transfer to the Turin club.
Meanwhile, it is understood that Juventus' priority is bringing in a strike partner for Cristiano Ronaldo, who was their highest goalscorer last season by a large margin. The Serie A champions are now looking to lighten the goalscoring burden on the 35-year old's shoulder.
On the other hand, the Bianconeri have faced criticism recently for their reluctancy in making long-term plans as they have fallen to signing older players and free agents these days.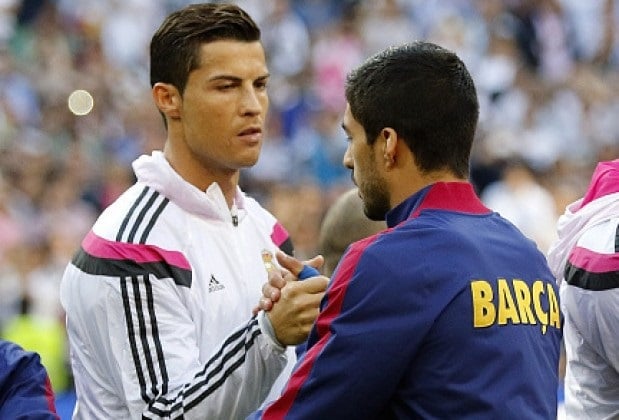 However, Ariedo Braida, who was a former Barcelona director and also spent some time in Italy, has backed the Old Lady to the signing of the 33-year old Luis Suarez.
Ariedo Braida On Cristiano Ronaldo and Luis Suarez Partnership
While on an interview with Tuttosport, Braida suggests that Cristiano Ronaldo and Luis Suarez could make a good partnership for the Bianconeri, citing that the latter has Juventus 'DNA.'
Editor's Picks
Juventus Plans to Partner Lionel Messi and Suarez with Cristiano Ronaldo
VIDEO: La Liga Pays Tribute to Cristiano Ronaldo By Showing All His Best Goals In the 2016-17 Season
Juventus Identifies Edinson Cavani As Ronaldo's Potential Strike Partner
Cristiano Ronaldo Fans Mock Messi's Barca U-Turn On Social Media
"I'm not surprised about his Barcelona exit because football is about cycles. Even Cristiano Ronaldo left Real Madrid because he felt his time there was over," said Ariedo.
"Suarez is a fighter and his battling spirit infects the rest of his teams. He has character and the DNA to play for Juventus and other big clubs. If he is motivated, he'll be a strong signing even at 33 years of age."
He then adds that both players will understand each other perfectly as they're natural winners.
"He won't have problems playing with Ronaldo. They'll understand each other perfectly because they're two natural winners," Ariedo Braida said.
Do you think that Ariedo Braida is right about his Cristiano Ronaldo and Luis Suarez suggestions? Let's hear your opinions through our comments section below!