Ronaldo Wants This Real Madrid Target To Join Him At Juventus Instead
It unusual for Cristiano Ronaldo to interfere in transfers, but recently, the Juventus superstar is getting involved often than not. This time Cristiano is going after a Real Madrid target, who eliminated his Juventus side in the Champions League round of 16 last season.
Probably, Cristiano felt the need to go after the Real Madrid target after he watched the midfielder dominate the center of the park against his team earlier in August.
Previously, we all witness how the Portuguese ace got right in the middle of Matthijs De Ligt's negotiations with FC Barcelona. If you can remember, in the UEFA Nations League finals against the Netherlands last year, Ronaldo specifically told the Dutchman to sign for Juventus.
It seems Cristiano Ronaldo is plotting to hijack another deal off the nose of an elite club; this time, it's going to be his former employers Real Madrid. Moreover, many would argue that not so many players impress Ronaldo, but the fact is, when anyone does, the Portuguese never forgets them.
Editor's Pick
Ronaldo Wants This Manchester United Target to Snub Old Trafford Move and Join Him at Juventus Instead
This Is What Happened In the Manchester United Team Bus When Ferguson Wanted to Sign Ronaldo
Weston McKennie: Playing With Cristiano Ronaldo Is An Honor
"Bottle Jobs" – Ronaldo Fans Clown Lionel Messi for a Dramatic Barca U-turn
For instance, when De Ligt and his then Ajax side eliminated Ronaldo's Juventus in the Champions League's quarterfinals of 2019, the five-time Ballon d'Or winner immediately sanctioned for his transfers, and Juventus approved it.
Why Ronaldo Wants Juventus To Sign Real Madrid Target
It couldn't have been any other game than the return fixture of the Champions League round of 16 games against Lyon. Olympique Lyon surprised everyone and was nowhere near the favorites to challenge for the title. Despite having plenty of quality names in their roaster, none of them impressed Ronaldo more than Houssem Aouar.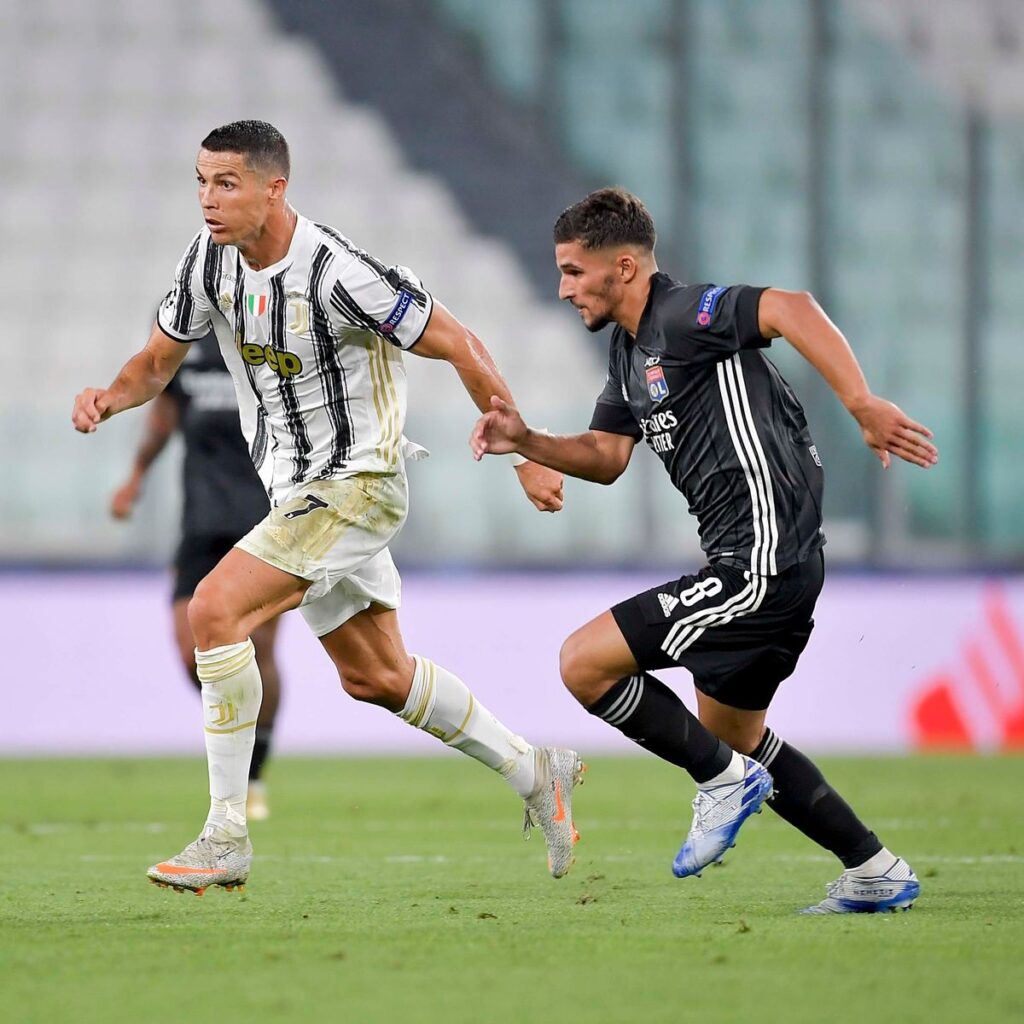 The French young midfielder has drawn attention of several European elite clubs but Real Madrid is reportedly his biggest suitors.
Real Madrid head coach Zinedine Zidane's predilection for his compatriots shows that Los Blancos would love to have Houssem Aouar on board. However, Don Balon has just reported that Cristiano Ronaldo is making inquiries about the player. It has appeared that Ronaldo wants new boss Andrea Pirlo to ask for Aouar's transfer before he could agree on a contract extension at the Turin club.
The five-time Ballon d'Or winner believes that Houssem Aouar is the kind of player that can help him win the Champions League once again. At this moment, it's clear that Juve's search for Ronaldo's strike partner isn't only what they needed, but also a proper midfielder who can complement their attack.
Meanwhile, it appears that Houssem Aouar is the player in that category who Cristiano Ronaldo has given the green light for Juventus to pursue his signature.
Juventus could now be the latest club to join the race to sign the 22-year old midfielder as many other clubs in Europe want to sign the Frenchman.
Would you like Juventus to sign the Real Madrid target from Olympique Lyon? Feel free to share your thoughts with us via our comments section below!