Football Legends React To Cristiano Ronaldo's Milestone Goals at Sweden
Football legends have reacted to Cristiano Ronaldo's milestone goals against Sweden on Tuesday night, showering him with lots of praises and congratulatory messages
The five-time Ballon d'Or winner reached the 100 goal mark for his national side yesterday in a 2-0 Nations League victory over Sweden, scoring both goals.
Cristiano not only reached the milestone, but the most fascinating thing was that he did it in his trademark style of breaking limits. The superstar was able to beat the 100-goal mark hurdle by scoring a sublime free-kick right at the end of the first half.
Following the return from the first-half break, Ronaldo added another scintillating goal, and he now becomes the second-highest international goalscorer [101] after Ali Daei of Iran, who has 109 goals for his nation.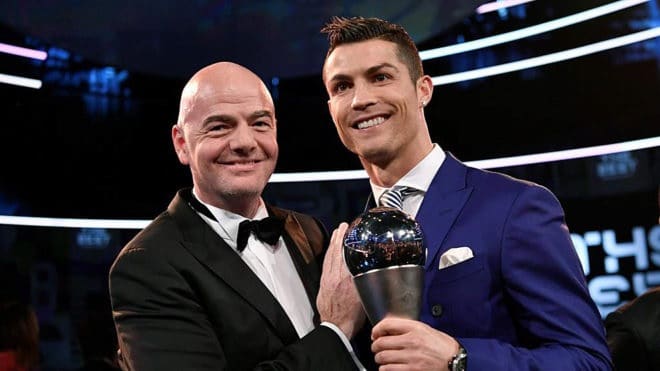 After the game, FIFA President Gianni Infantino sent his best wishes to Cristiano Ronaldo through SMS in both English and Portuguese. Brazilian legend Pele also praised the Portuguese ace via Twitter.
Editor's Picks
Cristiano Ronaldo Is One Of the Greatest Goalscorers of All-Time
Top 5 Serie A Records Ronaldo Has Broken In Just Two Years
Ronaldo's 2019-20 Stats In Numbers – Who Did He Perform?
Cristiano Ronaldo Is the Best Player In Recent Football History, Says Former Liverpool Star
Subsequently, several other football legends such as Rio Ferdinand, Marcelo, Nuno Gomes, Deco, Roberto Carlo, and Nani congratulated Ronaldo on his achievement through social media.
The FIFA President Infantino's Message to Ronaldo:
"Congratulations, Cristiano! More than 100 goals with your national team!! A fantastic record from a living legend of world football such as you are. Hope to congratulate in person soon. All the best. Gianni."
Top Football Legends Congratulatory Messages
Below is how several football legends have reacted to Ronaldo's achievement. Indeed, the superstar is out of this world!
Feel free to share your own messages to the five-time Ballon d'Or winner via our comments section below!