Cristiano Ronaldo Is The Best Player In Recent Football History, Admits Dejan Lovren
Ahead of Portugal Vs Croatia UEFA Nations League fixture, Croatian defender Dejan Lovren believes Cristiano Ronaldo is the best player in recent football history. Thus, Ronaldo "deserves maximum respect" for all he has done; likewise, he tipped the Portuguese captain to star in his forties.
Lovren is a part of the Croatia team that will face Ronaldo's Portugal in the UEFA Nations League opener later today in Porto [20:45 CEST].
Croatia team head coach Zlatko Dalic has, though, left out Luka Modric and Ivan Rakitic from his squad. Meanwhile, the absence of arguably two of his best players could prove costly for his team's chances of success, especially if Ronaldo recovers from a toe infection early enough to take part in the game.
However, the visitors will be hoping not to replicate their awful performance in the inaugural campaign, where they won only one game in four to suffer a group-stage exit, thus, doing better this time around.
But Dejan Lovren, who has faced Ronaldo six times in his career and picking one draw as his best result, knows Croatia could be in for a difficult time if the five-time Ballon d'Or winner makes a recovery.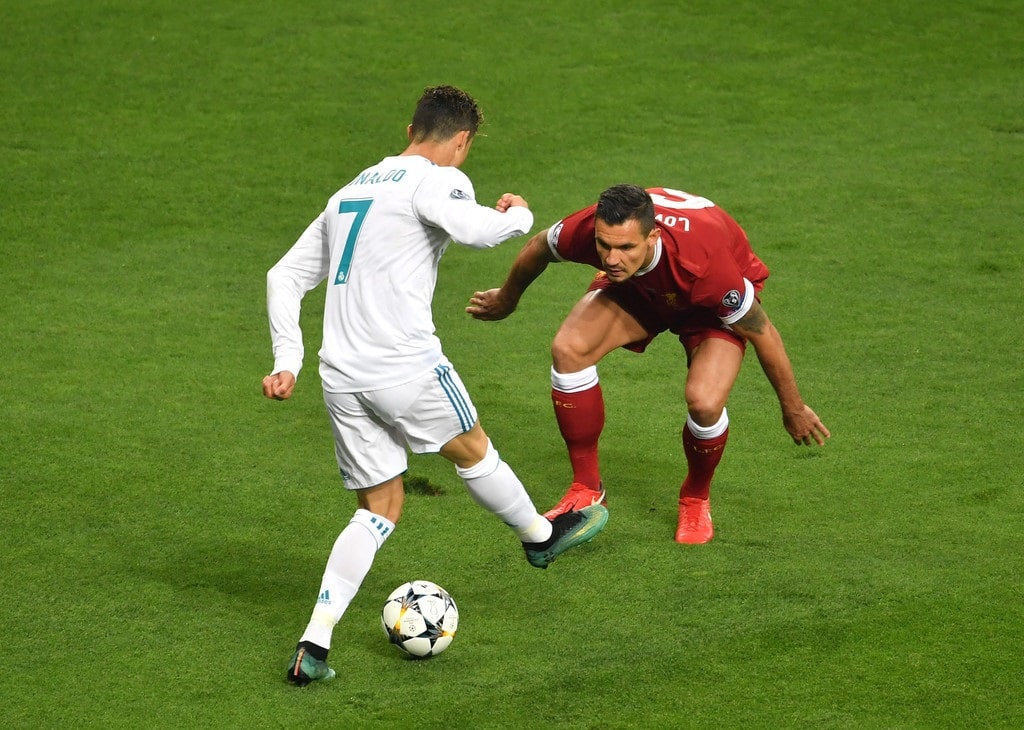 Ronaldo Is The Best Player In Recent Football History, Says Dejan Lovren
"There's no need to waste words on Cristiano Ronaldo. He's a player that has been playing a top-level for 15 years," Lovren said in a press conference as quoted by the MrBeanyman Youtube Channel.
"He's the best player in recent football history who proves what a machine he is year after year."
"Cristiano Ronaldo deserves maximum respect. What he and [Lionel] Messi are doing is truly amazing."
Editor's Picks
"They Look Fantastic!" – Ronaldo Praises Portugal's New Kit
Cristiano Ronaldo Leads 24-Man Portugal's UEFA Nations League Squad
CR7 Game On – Cristiano Ronaldo Launches New Fragrance
Cristiano Ronaldo Is One Of the Greatest Goalscorers Of All-Time
The former Liverpool defender, who now plays for FC Zenit Saint Petersburg added that; "It will be very difficult [to face him & Portugal]."
"I hear some people mention his age, but they forget about his statistics and his goal-scoring performance."
He then admits that Ronaldo would even be a dangerous player to face even at 40 years of age.
"Cristiano Ronaldo is always dangerous, at 35 or 36, he will even be dangerous at 40," said the 31-year-old defender.
"And one more thing, Portugal is not only Cristiano Ronaldo. Our first opponent in the Nations League has a lot of good players in their ranks who play for big clubs. I repeat, it will be very difficult," he warns his team.
At the moment, there is no update released yet on Ronaldo's fitness or potential participation for the game against Croatia. Still, the Portuguese Football Federation is keeping close tabs on his recovery process.
Do you think that Dejan Lovren is right that Cristiano Ronaldo is the best player in recent football history and would still be dangerous at 40? Feel free to share your thoughts via our comments section below!