Cristiano Ronaldo Sets A New Goalscoring Record In A 2:2 Draw Against AS Roma
A brace against AS Roma in a thrilling 2-2 draw on Sunday night means Cristiano Ronaldo has now scored a total of 450 goals across the top five league in Europe. Ronaldo is the first player in the history of football to achieve the landmark. The new record becomes his first of many to come in the 2020-21 season.
The new record continues to cement Cristiano Ronaldo's reputation as one of the best footballers in history, if not the best. He continues to show week in, week out what he can do on the pitch despite being 35 years of age.
Ronaldo opened his goalscoring account for the 2020-21 season with a well-taken goal in Juventus' 3-0 opener against Sampdoria last weekend. Fresh off from reaching 100 international goals with Portugal, the five-time Ballon d'Or winner looked sharp early the game, hitting the post during the first before finally finding the back of the net from Aaron Ramsey's weighted pass at the closing stages of the encounter.
Editor's Picks
Why Cristiano Ronaldo Is One of the Greatest Goalscrorers of All-Time
New Records Cristiano Ronaldo Will Break In 2020-21 Season Revealed!
Top 5 Serie A Records Cristiano Ronaldo Has Broken Within Just Two Years
Cristiano Ronaldo Is the Best Player In Recent Football History, Says Former Liverpool Defender
On Sunday night, Cristiano took his tally to three league goals from two games when Juventus took against AS Roma for their second league game of the 2020-21 season.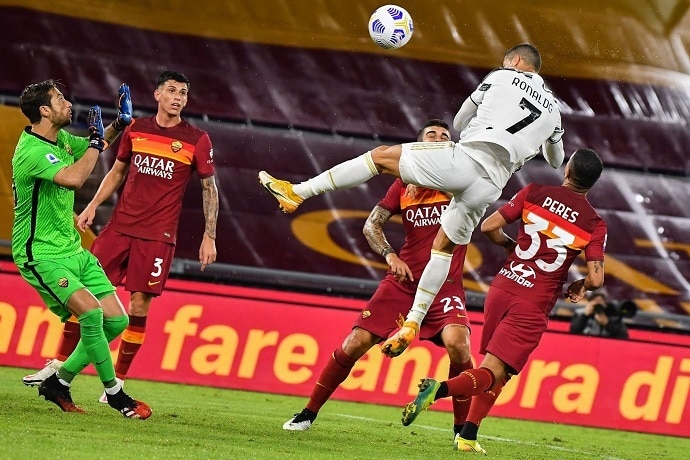 The star forward composed himself, as usual, to convert from the spot in the first half for his first of the night before scoring an exquisite header in the second half for his second, which is his third for the season in just two games.
Ronaldo's brace in the frustrating 2-2 draw was his 449th and 450th league goal of his career.
It means the 35-year-old is now the first and the only player to hit the 450-goal mark across the top five leagues in Europe.
He simply ages like a fine wine!
Feel free to add a comment via our comments section below!