Team Of The Season Released On FIFA Ultimate Team – Some Players Not Impressed!
This week's Team of the Season release on FIFA Ultimate Team was based on those who have impressed in Italy.
The team was stacked with the players that have impressed in the Serie A this season, featuring talents like Romelu Lukaku, Cristiano Ronaldo, and Mertens.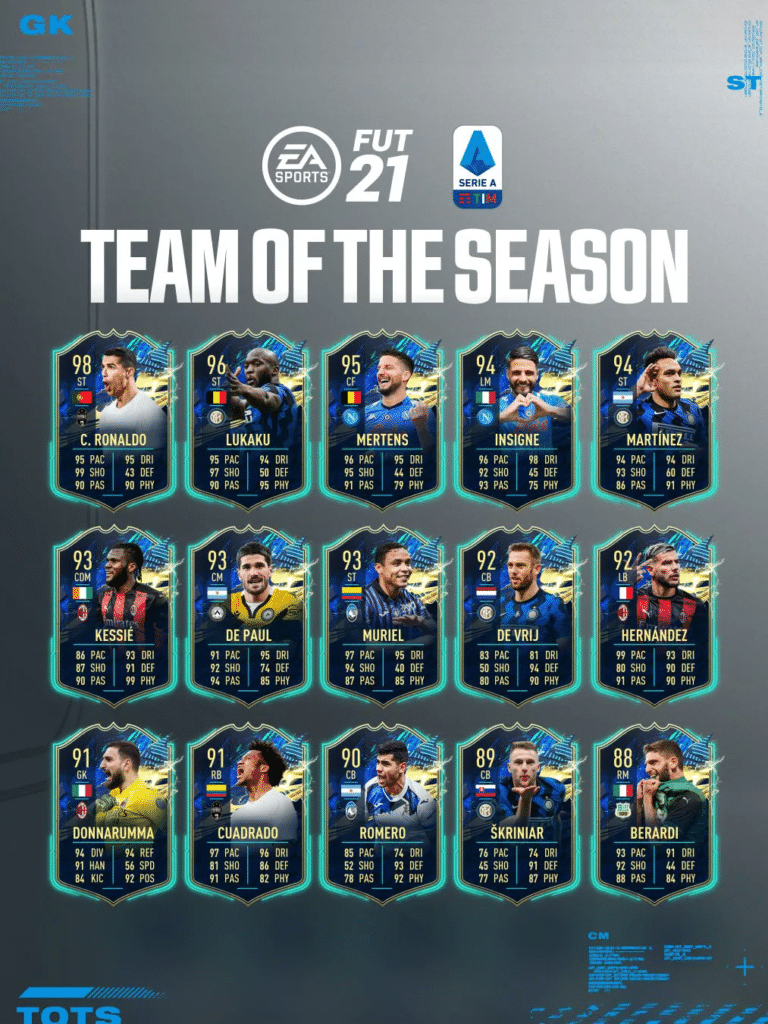 However, Hakimi Achraf, who has impressed greatly for Inter in their title-winning campaign was left out of the side.
Disappointed, the youngster took to Twitter to express his feelings, tweeting; "What a joke! If you have something against me, tell me! This is bull…"
What a joke! if you have something against me tell me !! This is bull… thank @EASPORTSFIFA #TOTS

Vaya broma! Si tenéis algo en contra de mi decírmelo! Vaya mi.. Gracias @EASPORTSEsp #TOTS

— Achraf Hakimi (@AchrafHakimi) May 21, 2021
Editor's Picks
Cristiano Ronaldo Sets 2 New Records With The Coppa Italia Win With Juventus
The 30 Most Valuable Football Clubs In The World Revealed
Cristiano Ronaldo Names 2 Players Who Have The Potential To Be The Best In The World
Why Cristiano Ronaldo Always Wears White Socks And What They Do
Also, his teammate Romelu Lukaku was equally displeased with FIFA, voicing his irritation with a tweet of his own, saying; "Let's be honest fifa just mess with the ratings so we players start complaining about the game and give them more publicity… i ain't with this sh*t. I know what i do."
https://twitter.com/RomeluLukaku9/status/1304327397752352768?ref_src=twsrc%5Etfw%7Ctwcamp%5Etweetembed%7Ctwterm%5E1304327397752352768%7Ctwgr%5E%7Ctwcon%5Es1_c10&ref_url=https%3A%2F%2Ftribuna.com%2Fen%2Fnews%2F2021-05-22-this-is-bull-inter-star-achraf-hakimi-responds-to-ea-sports-after-being-left-out-of-team-%2F
As a case of these players clearly unimpressed, whoever decides the FIFA ratings will surely not be welcome at the San Siro any time soon!