Luka Modric On Cristiano Ronaldo: "Everything Was Special About Him!"
While reminiscing his six years of playing alongside Cristiano Ronaldo, Luka Modric highlighted the standout qualities of his former Real Madrid teammate.
Picking Cristiano Ronaldo as the most influential player of Real Madrid in the last decade is a simple job anyone can easily do. Despite the fact that the list of world-class talents that have worn the famous white shirt for the past ten years is virtually endless, and their contribution to preserving the shirt's prestige cannot be overemphasized, one name remains a standout!
On the other hand, Luka Modric is a name that appears closer than most to the top of that list. Following his arrival from Tottenham Hotspur in 2012, Modric quickly became a regular in the starting XI at Santiago Bernabeu, after somewhat a disappointing first campaign.
Together with Cristiano Ronaldo, Luka Modric was an instrumental figure as Real Madrid conquered Europe from 2014 to 2018, with the Los Blancos scooping four Champions League titles within five seasons.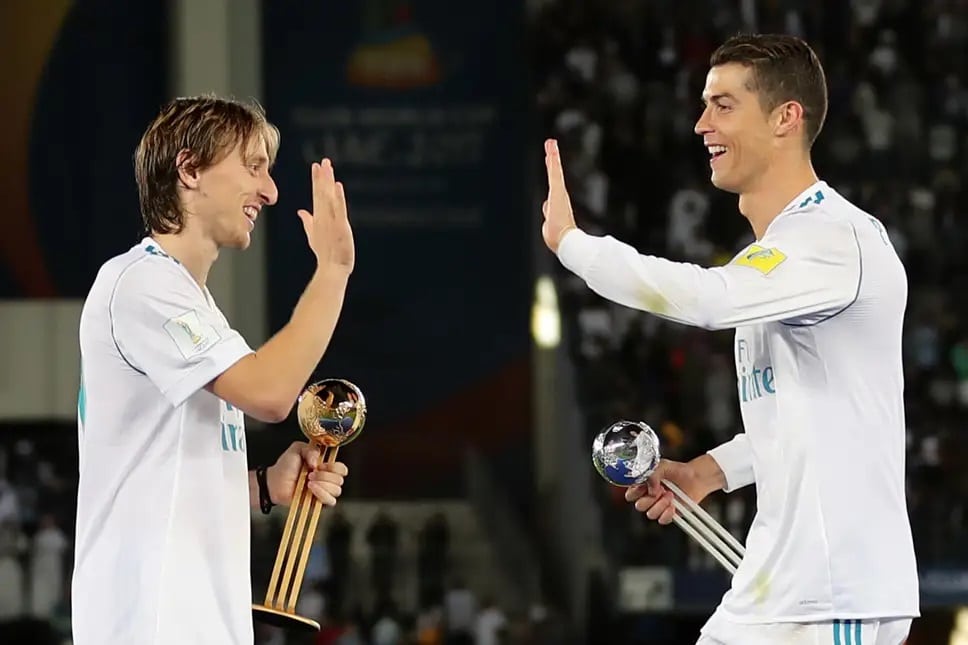 Cristiano Ronaldo and Luka Modric also guided the Spanish giants to two La Liga titles, three UEFA Super Cups, and as many Club World Cups, with a few other domestic trophies.
Editor's Picks
"Cristiano Ronaldo Makes Any Team Stronger," Says Manchester United Midfielder
VIDEO: La Liga Honors Cristiano Ronaldo By Showcasing All His Best Goals In the 2016-17 Season
Ryan Giggs: "Remarkable Ronaldo Can Play Until He's 40."
Weston McKennie: Playing Alongside Cristiano Ronaldo Is an Honor
Following a successful 2018 campaign, which saw the midfielder enjoy a fine run to the FIFA World Cup final defeat to the hands of France, Luka Modric became the only player to break Ronaldo and Lionel Messi's duopoly in the Ballon d'Or awards by landing the title in 2018.
Luka Modric Reveals Cristiano Ronaldo's Best Qualities He Admired Most
While on an interview with The Times, Modric suggests that one of Cristiano Ronaldo's best qualities that he admired most was his ability to decide games single-handedly.
"Playing with him was amazing. We enjoyed seven amazing years together, won so many things with him on our team," stated the Croatian
"Even when you weren't in the best form, Cristiano could still win you the game with his attitude and his skills and quality."
Modric adds that "Everything was special about him – the way he worked hard on training and that's why you can expect something special from him even when things aren't going the right way."
In the summer of 2018, Cristiano Ronaldo transferred to Italian side Juventus, where he has continued his excellence on the pitch.
Luka is absolutely right about Cristiano. Feel free to share your thoughts with us via our comments section below!