Top 7 Greatest Quotes About Cristiano Ronaldo – CR7
Ronaldo, as one of the greatest players to have taken on the game of soccer, has seen several high profile superstars had their say about him, including his arch-rival Lionel Messi. Anyone who knows Cristiano Ronaldo knows that the superstar is addicted to the number seven. That's basically where the inspiration for the title of this post is coming from – Top seven greatest quotes about Cristiano Ronaldo.
No matter the football team you support or whichever player you love most, there's no denying that Ronaldo is one the best footballers ever lived. He literally has broken all the good records that he came across, with the accolade, both individual and collective fulling his cabinet.
As the plaudits keep coming in daily, we have put together a compilation of seven greatest quotes about Cristiano Ronaldo.
Greatest Quotes About Cristiano Ronaldo
Below is our top seven greatest quotes about Cristiano Ronaldo from legends and great names in the industry.
1. Sir Bobby Charlton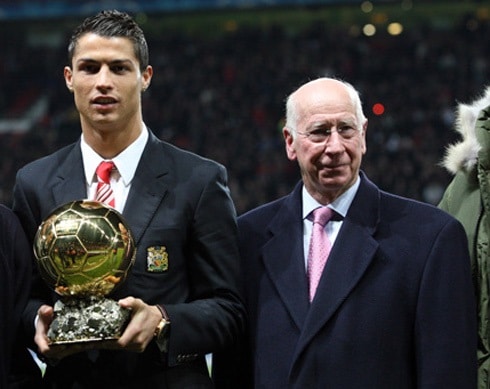 At just 18 years of age, Cristiano Ronaldo already caught the eyes of Manchester United's legendary skipper Sir Bobby Charlton, who is seen by many as the greatest midfield player.
Charlton, who captained England to the 1966 World Cup, was impressed by Ronaldo right from the start. Thus, the legend cannot help but heap praises on Ronaldo.
"He [Cristiano Ronaldo] does things I have never seen from any other player and it really is marvelous to watch. It takes a great player to grab the bull by the horns and make things happen, but he has done it repeatedly."

Sir Booby Charlton
Ronaldo later lived up to the expectations, winning three Premier League titles and the Champions League for Sir Bobby Charlton's United during his six years spell.
2. The Special One [Jose Mourinho]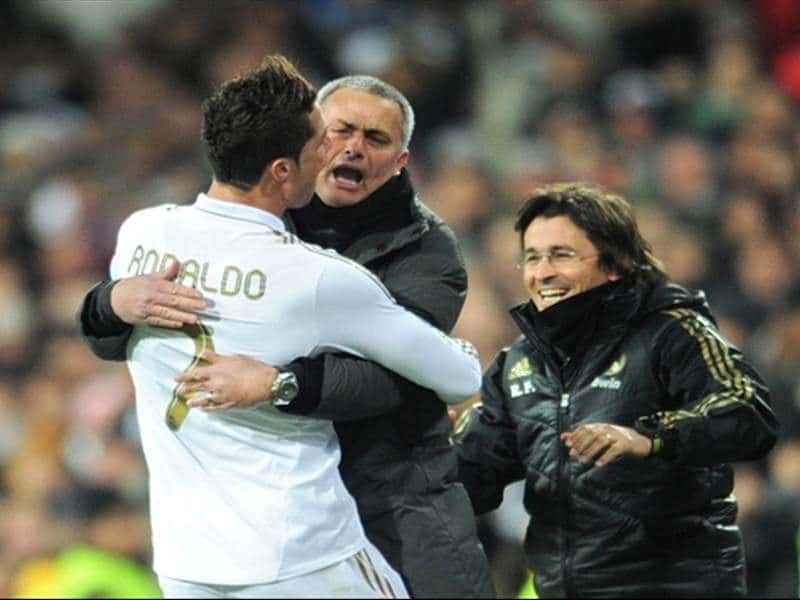 Under Jose Mourinho in Real Madrid, Cristiano Ronaldo enjoyed one of the most prolific highs of his career, contributing 168 goals and 49 assists in 164 games in just three years.
The Special One, having managed great players in his enviable career before then, made the ultimate admission on Ronaldo's talent ahead of Madrid's trip to Old Trafford for a Champions League game in 2013.
Mou believed that his fellow countryman was nothing but fantastic talent and had already surpassed Maradona and Pele as the best ever.
"He is the best. The best in the world, yes. Probably the best ever.

"I saw [Diego] Maradona a couple of times. I never saw Pele. But Cristiano is amazing. This man is the best… Cristiano is a goals machine. He is an incredible player. He is like [Zinedine] Zidane, there will never be another Ronaldo."

Jose Mourinho
Jose Mourinho during his time at Real Madrid guided Ronaldo and his compatriots to Copa del Rey glory and famously ended Barcelona's La Liga dominance in 2011-12 season.
3. Eusebio [Portugal Legend]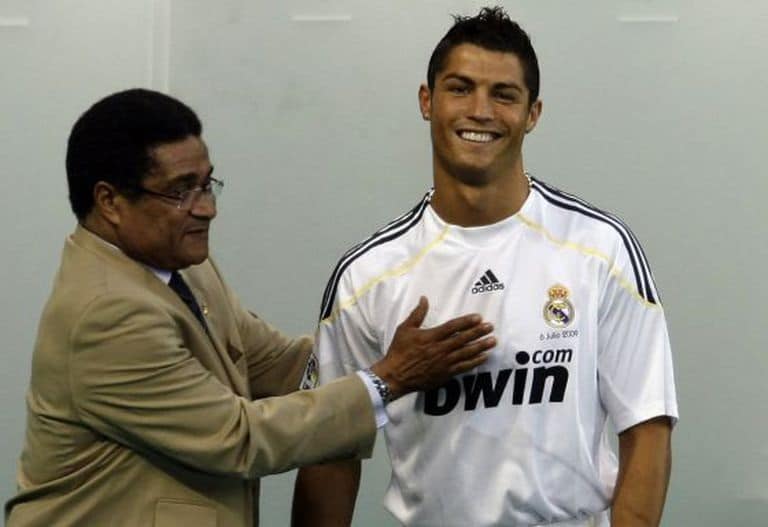 Eusebio is considered the greatest Portuguese player after Cristiano Ronaldo. From the onset, Ronaldo got fans comparing him with the legend.
Just like Cristiano, Eusebio doesn't take chances inside the opponent's box and equally has a lethal right foot. He held Portugal's record scorer until Ronaldo claimed that title. The Portuguese also wrote his name in the record books as one of the Ballon d'Or winners, claiming the awards in 1965.
Speaking on his rightful heir, the Benfica great showered praises on a young Ronaldo.
"He has magic in his boots. The first thing you notice about him is that he is incredibly quick and very, very powerful for such a young man.

"He has great, close control and his technique is excellent. He believes he can do anything with the ball, and that confidence makes him very special indeed."

Eusebio
As a young player, hearing such praise will surely be motivating. But sadly, Eusebio passed away in January 2014, aged 71.
4. Lionel Messi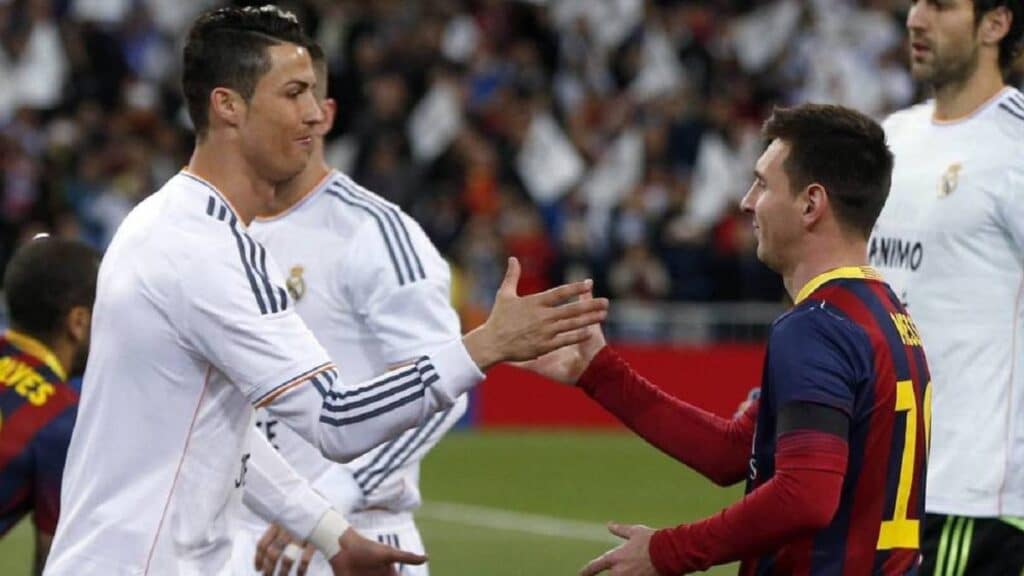 For more than a decade now, Lionel Messi and Cristiano Ronaldo have dominated world football. There is only a handful of records remain unshattered by the magical duo.
However, football fans, players, managers, and pundits remain split over the long debate of who is the GOAT (Greatest Of All Time) between the pair.
Messi, upon winning the European Golden Shore award in 2013, took a moment to pay homage to his arch-rival's goalscoring prowess for the first time.
"(Ronaldo) is always there scoring goals in all the games and taking part in his club and the national side. He has been doing that for many years and whether he is at his peak or a bit below it makes no difference."

Lionel Messi
Editor's Picks
Top 5 Players Hailed as the Next Cristiano Ronaldo – Where Are They Now?
Download the Best Cristiano Ronaldo HD Wallpapers for Free
Cristiano Ronaldo's Net Worth in 2020 – Forbes Evaluation
Ronaldo's Journey As a Player – Player's Biography
5. Ryan Giggs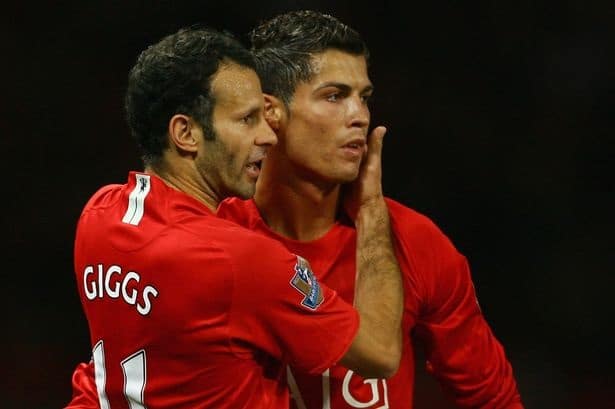 Giggs is a Manchester United's legend and Ronaldo's former team-mate when he was at Old Trafford. The Welshman was already an established star when Cristiano Ronaldo first arrived at United.
With Giggs' eyes on Ronaldo, the lanky teenager developed to one of the bests in the world. After seeing what amazing talent Cristiano has got, the Welshman heaped praises on his former team-mate.
"When Ronaldo gets the ball, you can just leave him to it while he beats player after player."

Ryan Giggs
6. Zinedine Zidane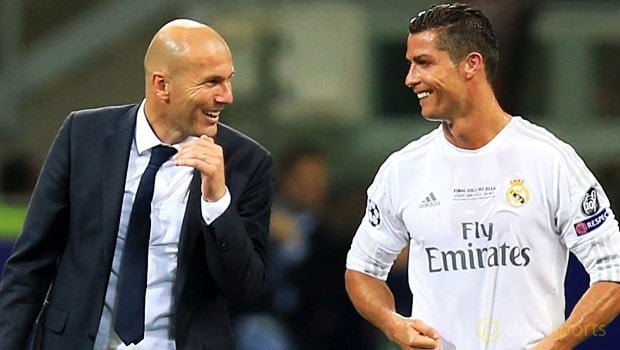 Despite football being played with 11 players on each side, Zinedine Zidane believes that one who has Ronaldo on his side is already on an advantage.
The Veteran playmaker, who coached Ronaldo at Real Madrid knew the Portuguese's impact behind the club's trophy-laden years.
"When you play with Ronaldo on your team, you are already 1-0 up."

Zinedine Zidane
Cristiano Ronaldo and Zidane enjoyed successes upon successes at Madrid. The French man led the club that spawned Ronaldo and Galactico stars to three successive Champions titles, a La Liga, and two FIFA Club World Cups in his first two-and-a-half-year stint at Real Madrid.
Ronaldo also found top form under Zidane scoring 112 goals and proving 29 assists in 114 games, while equally landing a back-to-back Ballon d'Or awards within that period.
7. Luis Figo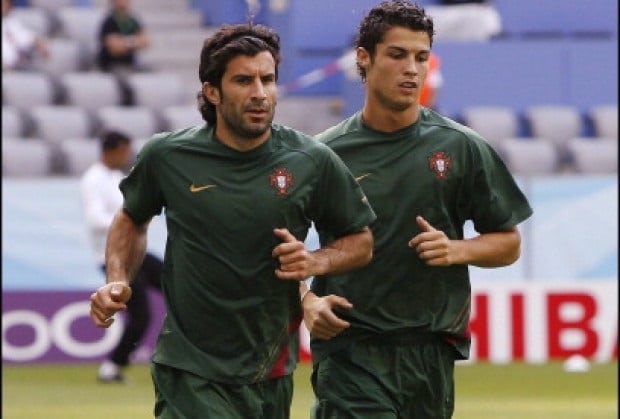 Figo was the star Ronaldo took mantle of leadership directly from in his national team side. Both had similar career graphs, with Figo starting his career as a teenager in Portugal before moving to one of the biggest teams in Europe, Barcelona.
Luis Figo also found success when he moved across the city from Catalonia to Madrid. He hanged up his boots after the 2006 World Cup from which Ronaldo took off from the iconic star. However, Figo being fully aware of his countryman's potentials, he heaped praises on him.
"There are some things Ronaldo can do with a football that makes me touch my head and wonder how on earth he did it."

Luis Figo
Take Away
Cristiano Ronaldo has won for himself a host of admirers following his exploits in career. The list of the greatest quotes about Cristiano Ronaldo would continue to go down if we decide to compile them. However, we have to stop on his favorite number 7.
You can take to our comments section to add your own quotes about CR7.