Oxford Maths Professor crowns Cristiano Ronaldo the GOAT with Proofs
After reveiwing the 10 greatest players of all-time, Oxford maths professor crowns Cristiano Ronaldo the GOAT as he shares the proof to justify his decisions.
Oxford mathematician Dr. Tom Crawford has claimed that he has proof that Cristiano Ronaldo is the greatest player in the history of football. He uses the 'G.O.A.T index'.
Arguably, most footballers don't seem to settle the dispute when it comes to the greates player of all time – 'The GOAT'. The title seem to settle between Cristiano Ronaldo and Lionel Messi. However, there comes a time when one has to make a logical decision deviod of sentiments.
In attempt to answer the question of who the actual GOAT is, Livescore teamed up with the Oxford maths professor, Dr. Crawford to come up with the 'G.O.A.T index' that places Ronaldo as the greatest player ever.
In the scoreboard, the Portuguese ace rating was 100% ahead of rival Lionel Messi with a rating of 94% and Brazilian legend Pele coming in at 85% rating to sum up the top three rank of global football GOAT in history.
Pictorial view of 'The G.O.A.T index'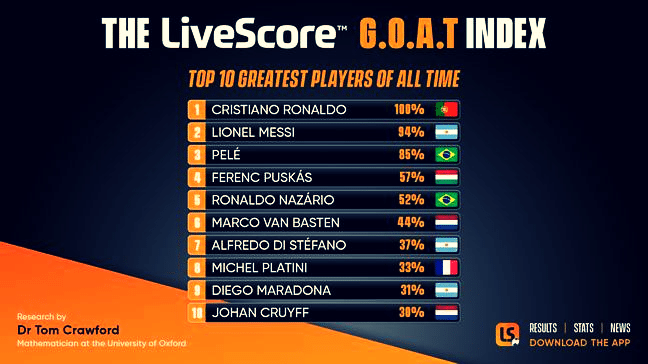 How Dr. Crawford did the analysis
The professor of mathematics drew up a shortlist of 13 players to have won the Ballon d'Or at least twice. Afterwards, he set the following seven categories:club titles, international titles, club goals, international goals, Ballon d'Or, records and Z-factor seasons.
Dr. Crawford then awarded players points for each category and eventually confirmed that Ronaldo is the greatest player of all time.
Read Also: Breaking: Ronaldo Reveals Who is his Greatest Rival in Football