Gary Neville Explains Why Mohamed Salah Is Just Like Cristiano Ronaldo; He Could Be Right!
Manchester United legend Gary Neville believes Mohamed Salah is an "absolute killer on the pitch" and likens his desire to be the best to that of Juventus superstar Cristiano Ronaldo.
Last weekend, Mohamed Salah started his 2020-21 Premier League campaign in flying fashion, scoring a hat-trick in Liverpool's 4-3 win over Leeds United in their league's opener. Salah's goals brought his Liverpool's tally to 97 goals and 41 assists in just 154 appearances. Within those periods, the Egyptian has also seen two Golden Boot awards, the Premier League, a Champions League, UEFA Super Cup, and the FIFA Club World Cup titles come his way.
Thus, Salah's past three years at Anfield can only be called a success, with the former Chelsea and AS Roma winger thriving alongside African compatriot Sadio Mane in Jurgen Klopp's frontline.
Editor's Picks
Erling Haaland Can be as Good as Cristiano Ronaldo Says Norway Boss
Cristiano Ronaldo Can Break Into Liverpool's Starting XI Front Three, Says John Barnes
Who Is Fabio Paim? – He Was Rated to Have More Talent than Cristiano Ronaldo
Find Out the Top 5 Footballers Hailed as the Next Cristiano Ronaldo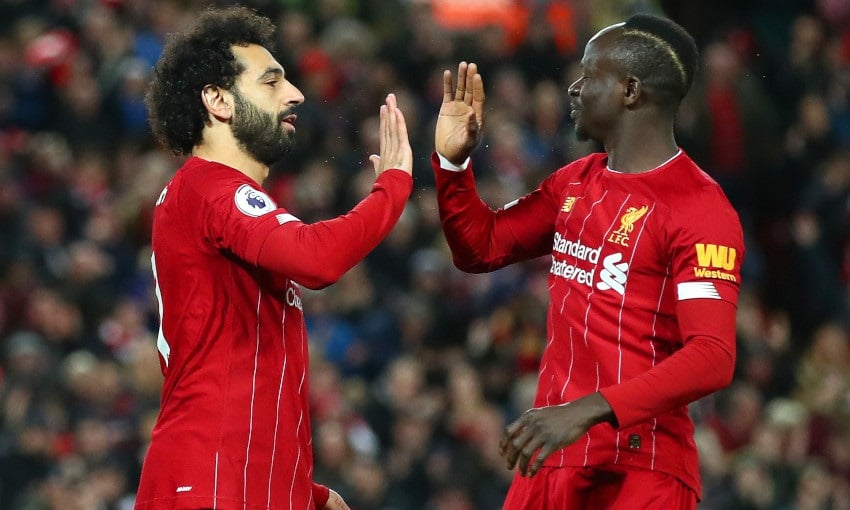 However, Gary Neville reckons that the 28-year old forward's hunger to prove himself to be above all his peers means he'll go above the likes of Sadio Mane just like his former Manchester United teammate Cristiano Ronaldo did with Wayne Rooney.
Gary Neville Says Salah Is "an Absolute Killer on the Pitch"
Speaking with Sky Sports, Neville says Salah reminds him about the twin attacking of Ronaldo and Rooney back in the days at United.
"I look at him as an outsider, and I'm thinking that he is an absolute killer on the pitch," Gary Neville told Sky Sports.
"It reminds me of the twin tracking of Ronaldo and Rooney in the mid-2000s. That's where Mane and Salah are now.
He then adds that Mohamed Salah would end up above Sadio Mane just like Ronaldo did over Wayne Rooney.
"think Salah will end up going above Mane, not because Mane's not a great player, he is a great player as Rooney was, but the reason players [like Salah or Ronaldo] are different is that they have something up here [in their head] which means that they go home at night and being the best player in the world rocks their world, whereas a Rooney or a Mane, they feel that the team's got to win, I've got to give my all, I'll fight for my teammates. Salah doesn't do that."
Do you think Gary Neville is right about Mohamed Salah's assessment? Feel free to share your opinions with us via our comments section below!