'Erling Haaland Can Be As Good As Cristiano Ronaldo With His Potential," Says Lars Lagerback
Norway boss Lars Lagerback suggests that Erling Haaland has the right mentality and talent to become one of the best players in the world, likening him to Cristiano Ronaldo.
Erling Haaland has risen to prominence since he completed a €22.5 million transfer from Red Bull Salzburg to Borussia Dortmund last January.
Immediately he arrived at Bundesliga; the Norway international took the league by storm when he scored a hat-trick within 23 minutes off the bench in his debut match. Haaland later scored a total 13 league goals to help Dortmund to a second-place finish behind the champions Bayern Munich.
When you put his total tally together for RB Salzburg and Borussia Dortmund in the 2019-2020 campaign, Erling Halaand bagged an incredible 44 goals and registered 10 assists in just 40 games.
Meanwhile, the teenage striker has taken his good goalscoring form to his national side, finding the back of net in Norway's Nations League opener against Austria, which ended in a 2-1 defeat.
Following his excellent performance, his national team boss Lars Lagerback is impressed with his rapid growth and claims only Cristiano Ronaldo and Lionel Messi in the recent past were as evolved as Haaland at the same age as the young striker.
Lars Lagerback On Erling Halaand
Speaking on Sky Sports, Lagerback praises the development of his talented striker and suggests that he can reach top levels as to Ronaldo and Messi.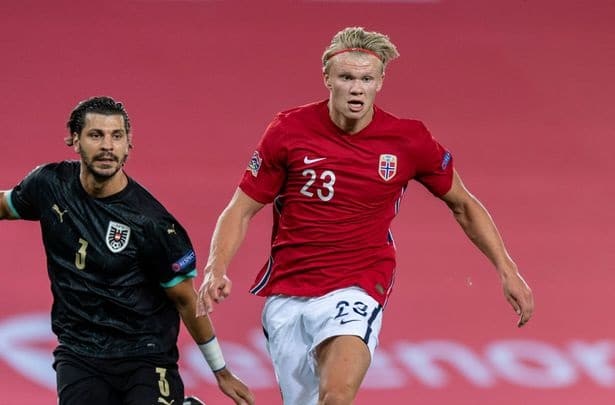 Editor's Picks
Cristiano Ronaldo Vs Lionel Messi: Who is the GOAT?
Top 5 Players Hailed As the Next Cristiano Ronaldo – Where are they Now?
Who Is Fabio Paim? – He Was Quoted to Have More Talents Than Cristiano Ronaldo
Cristiano Ronaldo Is the Best Player In the Recent Football History Says Dejan Lovren
"I've maybe been around too long but I have never seen a guy since maybe Messi or Ronaldo that developed at such a young age," Lars Lagerback said of Haaland on Sky Sports.
"That's very unique and he has all the possibilities to become a really world-class player – if you look at the offensive third of the pitch and in the box then he's already absolutely top class."
The Norway boss adds that Erling Haaland can reach top-class if he stays focus and injury-free.
"With the qualities he already has and his focused personality – if he can stay free from injury then he can be a really top-class player."
Do you think Lars Lagerback is right about Haaland having the talents to be as good as Cristiano Ronaldo? Share your thoughts with us via our comments section below!