Cristiano Ronaldo Jr, Star's Profile, Biography & Stats – Like Dad Like Son
When the sentence, "Like Father Like Son" is made, it is mostly true in some cases. The adage is true in the life of Cristiano Ronaldo Jr. Speaking about Cristiano Ronaldo is speaking about goals, and that seems like it will continue with his 13-year-old son showing signs at the early stage of his career that he might even better his father.
So far, Cristiano Ronaldo Jr has much more than the genes of his father Ronaldo to deserve the media attention. In this article, we will cover the little boy's profile, bio, stats, and how he is much like his dad.
Cristiano Ronaldo Jr Profile
Cristiano Ronaldo Jr was born on June 17, 2010, in San Diego, California, United States, to the Portuguese and Manchester United forward Cristiano Ronaldo. Although the identity of the child's mother is unknown, it is reported that he was told that his mother was dead when he was a bit older. At the moment, his guardians have no intention of revealing the identity of his mother to him.
Name: Cristiano Ronaldo Jr
Born: June 17, 2010
Nick Name: Cristianinho
Nationality: American
Born In: San Diego, California, United States
Father: Cristiano Ronaldo
Siblings: Martina, Eva & Mateo
Famous As: Cristiano Ronaldo's Son.
About Cristiano Ronaldo Jr
Cristiano Ronaldo Jr is the eldest son of the Portuguese and Manchester United superstar Cristiano Ronaldo. He is already a skilled football player with many media outlets attributing his qualities to that of his father.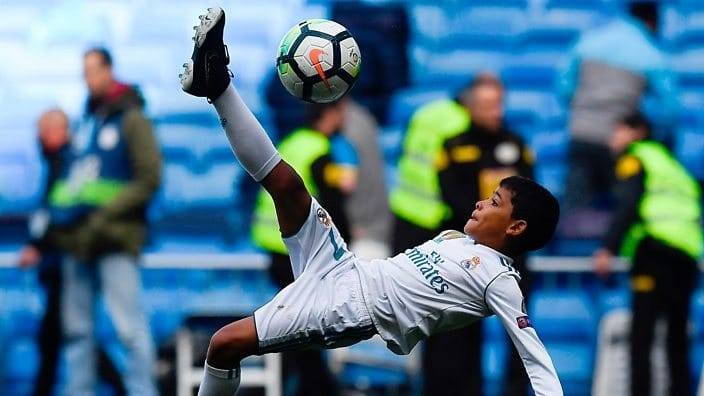 Cristianinho started playing football in 2016 in a small club called Club de Futbol Pozuelo de Alarcon in Madrid, Spain. A year later, on June 6, 2017, his dad Cristiano posted an image of him on his Instagram account, which showed the young talent clutching two trophies, the Copa 2017 and Pichichi (Award for scoring most goals in the league), which Cristiano Ronaldo Jr won for his side.
The prodigy is often spotted with his father on social media posts. He also accompanies him to the stadium as he emulates his iconic dad, as well as various award events.
Cristiano Ronaldo Jr's Rise to Stardom
Being born to one of the world's biggest names in the football industry, Cristiano Ronaldo Jr has grown under constant media watch since he was an infant. He always accompanies his father on numerous occasions. Cristianinho has been in the headlines lately not just because of his famous father, but because of his own personal talent.
In April 2017, his proud dad shared a video of the little boy where he is seen lining up to take a free-kick in his father's legendary pose after which he scored a fabulous free-kick goal.
Again, in April 2019, Cristiano Ronaldo Jr made headlines when he netted seven times in the first half during a game at the Torneo Internacional de Futbol de Maritimo in his father's native town of Madeira. The lad would go on to manage 25 strikes in eight games for Juventus under-9 that season. Overall, he was revealed to has scored 58 goals and provided 18 assists in just 28 games for the Juventus youth team last term.
Cristianinho Joins Instagram
Back in February 2020, the youngster signed up to Instagram and gained close to one million followers in just 24 hours. Although it would come as a little surprise as his dad is also the most followed athlete on the photo-sharing platform with over 208 million followers.
Cristiano Ronaldo Jr can be seen on Instagram as @Minicristianoronaldo2010. His first post in his new account at the time was a video introducing himself in four different languages. He says: "Hi guys. This is my new Instagram account. I hope you enjoy. Take care, bye."
Should he continue at this pace, Cristianinho could possibly surpass his father in the future.
Cristiano Ronaldo Jr Signs For Al-Nassr U-13s
On 19th October 2023, it was reported by legendary transfer journalist Fabrizio Romano that Cristiano Ronaldo's eldest son, Cristiano Jr has signed for Al Nassr Under-13s.
Previously, the talented kid has been a part of the academies of the clubs his dad has represented, including Real Madrid, Juventus, and Manchester United. Now, the 13-year-old star has joined Ronaldo's current club Al-Nassr.
The transfer expert, Romano, who broke the news adds that Cristiano Jr will begin training with the Saudi Arabian club in the next few days and will wear the No.7 jersey, the number his dad wears and has done throughout his career.
Still aged 13, the kid perhaps has a long way to go before penning down his first pro contract as it appears that he possesses ambitions to become a superstar like his father.
Cristiano Ronaldo has been quoted saying in 2022: "My son tells me, 'Dad hold on a few more years – I want to play with you.'"
Ronaldo, a five-time Ballon d'Or winner signed an eye-watering contract with Al Nassr in December 2022 after leaving Man United in acrimonious circumstances.
Meanwhile, if Ronaldo, 38 can hold on a little longer, we might see Ronaldo Jr's dream of playing with his dad come to pass!
Watch Ronaldo Jr's Al-Nassr debut highlights Below!
Summary
When speaking about Ronaldo, you can't say much without speaking about scoring goals. If Cristiano Ronaldo Jr should defile all odds, he could someday be considered greater than his father in the world's biggest sport. So far, the youngster is already writing his name in the history books.