Cristiano Ronaldo's 2019/2020 Season Stats In Numbers
Over the years, football has experienced great changes with the introduction of VAR, the new handball rule, and Financial Fair Play. However, one that has remained constant is the ability of Cristiano Ronaldo to deliver. At 35, Cristiano Ronaldo's 2019/2020 season stats seemed like that of a 25-year-old normal player.
Most normal footballers at the age of 35 would be thinking about slowing down, looking for one final payday across the Atlantic or in the Far East, even considering their coaching badges, but there is Cristiano Ronaldo, who is still making history at that age. He is thus, no ordinary footballer!
The Juventus and Portuguese superstar is still operating at the highest peak of football, with his 2019/2020 season stats speaking for themselves. Cristiano Ronaldo's 2019/2020 season stats show that the five-time ballon d'Or winner makes the extraordinary pretty ordinary in football. Although there was no Capocannoniere, an award for the highest scorer in Italia Serie A for him this time around as Ciro Immobile pipped him to the post, CR7 still scores goals for fun. And to admit, his 37 goal haul across all competitions this season is so much spectacular for a player of his age.
Now, let's review his 2019/2020 season stats in numbers.
Cristiano Ronaldo's 2019/2020 Season Stats for Juventus
Here, we point out the key contributions made by Cristiano Ronaldo in Serie A for Juventus in 2019/2020 season.
Equalled the Most Consecutive Goals in Serie A
Before the 2019/2020 season was put to a halt by the coronavirus pandemic, Cristiano Ronaldo became one of the only three players to score at least one goal in 11 consecutive Serie A games. The record was previously held by Fabio Quagliarella (2018/19) and Gabriel Batistuta (1994/95).
Ronaldo would go all the way to score 16 goals in those 11 games for Juventus but fired blank at the end of February against Inter. But like you know, there's always next season for a player like Cristiano who defies logic on a weekly basis.
Most Consecutive Goals for Juventus
Cristiano Ronaldo may be level for most consecutive goals scored by any player in Serie A, but for the Bianconeri, he's top of the list. While drawing level on most successive goals scored by any player in Serie A, Ronaldo became the only player in Serie A history to score consecutive goals in 10 + games for Juventus.
The scoring run started on Matchday 14, a home game against Sassuolo, where Juve played out a 2:2 draw with Ronaldo netting once. He would go on to score 16 times along the line as the scoring run was brought to a halt on Matchday 26 when he fired blank against Inter, having scored in all of his previous 11 games, missing one game in the process. Ronaldo is simply in the league of his own!
Scored a Spectacular Header Against Sampdoria in Matchday 17
On 12th December 2019 when Juventus needed a crucial win against Sampdoria to go atop the Serie A table, Cristiano Ronaldo came to their rescue as always with a 90-minute stunning header. Ronaldo was calculated to be 71 centimeters off the turf when he met the ball. And to think of an average jump of an NBA player to be between 60 and 70 centimeters, Ronaldo's jump power showed yet again what kind of player he is.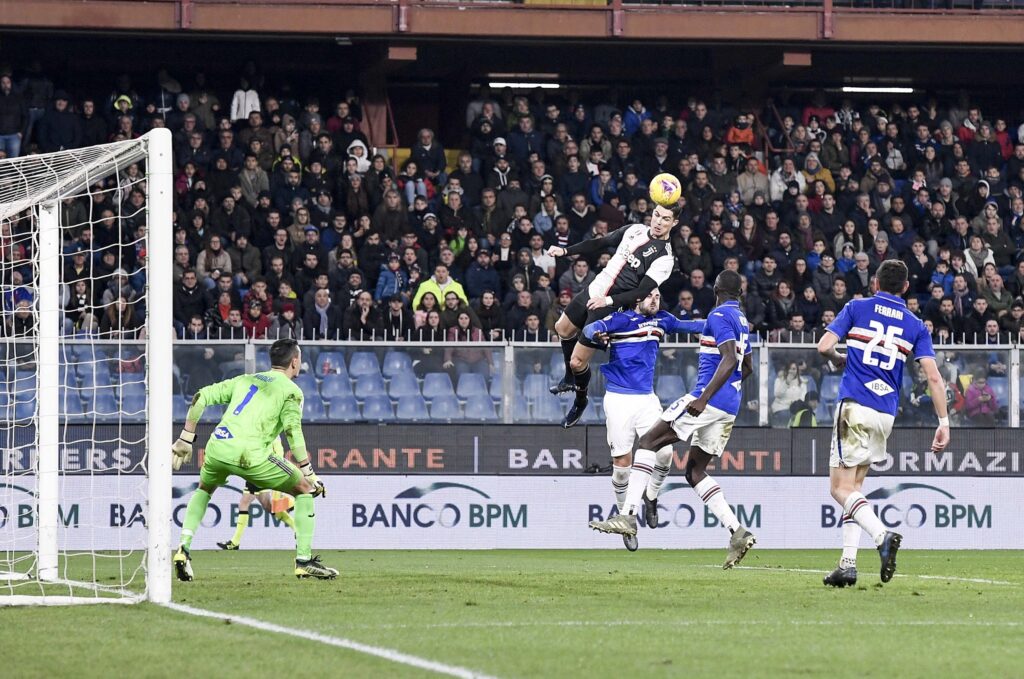 When he was informed by a Sky Italia reporter after the game that his jump had leveled out at a height of 2.56 meters, Ronaldo who seems unlikely to often surprise himself by his own ability responded. "Seriously, I jumped 2.56 meters? I didn't realize that. I'm really happy with the result. It was a very difficult game and Sampdoria played really well. The whole team showed great character – it was a good goal and I'm happy to have helped my team to pick up the three points."
Scored His First Free-Kick Goal for Juventus
On 4th July 2020, Ronaldo grabbed his first-ever free-kick goal for Juventus during a 4:1 win over Torino in as many attempts since joining the club in the summer of 2018. Prior to the game, Cristiano has been in a fine form in Serie A, either scoring or assisting in each of his last 16 games for the club.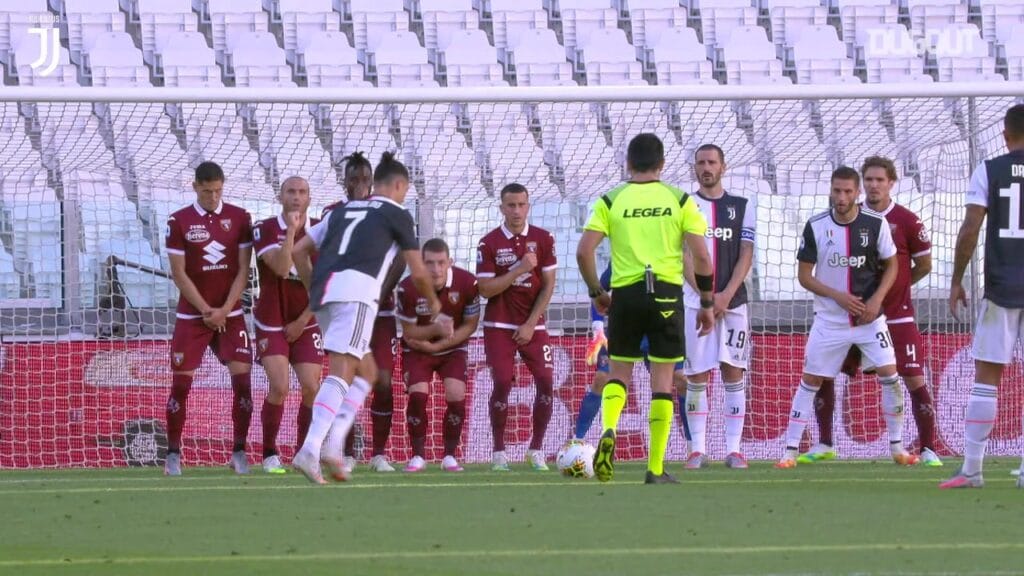 The free-kick goal was also his first for any club side since the December of 2017.
Fastest Player to Score 50+ Goas in Serie A
On 20th July 2020, Cristiano Ronaldo scored a three-minute brace against Lazio in the top of the table decider. The pair of goals ensured that Ronaldo netted the fastest half-century of goals in Serie A, doing so in just 61 games.
The record was held by Andriy Shevchenko, who scored his 50 goals in 68 games for AC Milan in Serie A.
A 30+ trifecta
The 2-1 win against Lazio in July also brought Ronaldo's 30th goal for the season. Cristiano Ronaldo netted both goals for Juventus in the encounter, which made him the first player to score 30+ league goals in a single season in three Europe's top-five divisions, having previously achieved the feat in the Premier League and La Liga.
In 2007/08 season, Ronaldo bagged an outrageous 31 goals for Manchester United before going further to hit 30+ goals in six separate campaigns during his time in the Spanish capital with Real Madrid.
Scored the Most Goals in a Single Season for Juventus
Ronaldo broke Juventus's all-time record for most goals scored in a single season, scoring a staggering 37 goals in all competitions in 2019/2020 season. On 7th August 2020, Ronaldo scored a brace against Lyon in a Champions League exit, which surpassed a mark set in Turin more than 80 years ago.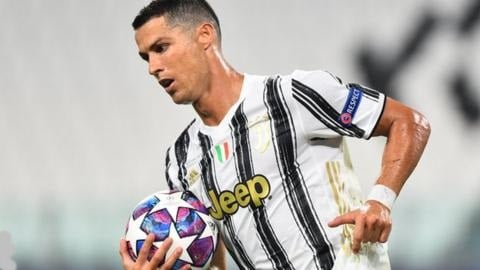 The record had stood for more than 80 years, since 1933/34 season when club legend Felice Borel scored 36 times across Serie A and the defunct Mitropa Cup.
Scored 10th Champions League Goal for Juventus
The game against Lyon saw Ronaldo score his a brace, his 10th Champions League goal for Juventus, and his 4th in the 2019/2020 season. With the goals, he became the first player to score 10 or more Champions League goals for three different clubs. He had previously achieved the feat with Manchester United and Real Madrid.
Overall Cristiano Ronaldo's 2019/2020 Season Stats
Serie A
Games Played: 33
Goals Scored: 31
Assists: 6
Yellow Cards: 3
Red Cards: 0
Minutes Played: 2,919
Champions League
Games Played: 8
Goals Scored: 4
Assists: 1
Minutes Played: 712
Coppa Italia
Games Played: 4
Goals Scored: 2
Minutes Played: 360
Supercoppa Italiana
Games Played: 1
Minutes Played: 90
Overall Total
Total Games Played: 46
Total Goals Scored: 37
Total Assists: 7
Total Yellow Cards: 3
Total Minutes Played: 4,081.
Trophies Won: Scudetto (Italia Serie A Title)
Summary
Cristiano Ronaldo's 2019/2020 season stats show that despite age factor that he can still compete at the highest level, rewriting the history books week in week out. He always comes out on top when it really matters!