Juventus Plans to Pair Up Suarez and Messi With Ronaldo As Camp Nou Remain In Turmoil
Having previously joined the race to sign the wantaway Lionel Messi from Barcelona, Juventus has now shown interest in Messi's unwanted teammate Luis Suarez as they look to form the attacking trio of Ronaldo, Messi, and Suarez. Suarez and Messi are understood to be wanting to quit Barcelona following the appointment of the new manager, Ronald Koeman.
Soon after Koeman's arrival, Lionel Messi made it known of his decision to leave the club, leaving the club with a big decision to make on their own side. However, Luis Suarez was told by the new manager that he's not wanted at the club immediately after stepping foot at Barca.
Although it was not only Suarez that will have to face the axing of the new manager as rumor suggest that the following players are deemed surplus to requirements; Arturo Vidal, Samuel Umtiti, Sergio Busquets, and Jordi Alba. Ivan Rakitic, who recently transferred to Sevilla, was also said to be on that list.
Suarez and Messi, however, are heavily linked with moves away from the club with Suarez, as mentioned earlier, is unwanted by the new manager. But Messi, on the other hand, is adamant about leaving despite Barcelona eager to keep him.
Since Messi announced his decision to leave Barca, he has been linked with a move to Manchester City, where he will be reunited with former Pep Guardiola.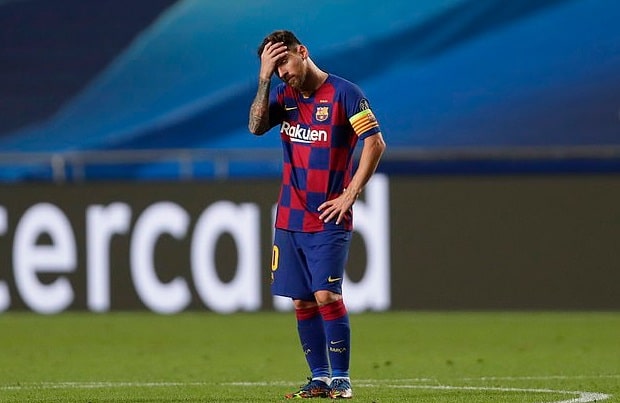 But then, the reports coming out of Catalan radio program El Larguero on Cadena SER claim that Juventus have also shown great interest to sign Messi. The report, meanwhile, claims that the Turin outfit is eager on pairing him up with Cristiano Ronaldo.
Editor's Picks
Fabrice Pancrate Says PSG is Planning Ronaldo, Messi & Guardiola Swoop
Ronaldo Issues Warning to Clubs, Says Juventus Will Conquer Italy, Europe, and the World
Top 7 Greatest Quotes About Cristiano Ronaldo
Top 5 Serie A Records Ronaldo Has Already Broken in Just Two Years
Elsewhere, Juventus are closing on Suarez's signature with Football Italia claiming that the club has already agreed to personal terms with the 33-year-old Uruguayan striker. The Serie A champions will be hoping to sign Suarez on a free transfer as he is currently negotiating an early contract termination.
Additionally, the Italian giants are believed to be in the market in search of a strike partner for Ronaldo as they look to bolster their firepower. Moreover, the new boss Andrea Pirlo has made it clear that Gonzalo Higuain has no place in his plans for the club.
What an incredible trio Suarez and Messi with Ronaldo will make!
Please if you wish to see the three superstars together at Juventus, do share your thoughts with us via the comments section!