Ryan Giggs: "'Remarkable' Ronaldo Can Play Until 40"
With the way Cristiano Ronaldo is cautious regarding his fitness and health, Ryan Giggs has suggested it could help him prolong his career. Even to play at the age of 40!
Ronaldo has proved time and again that age is just a number in his career. Most time in football, 35 years of age is considered the diminishing point, and at that level, most players weigh up retiring from the sport, while others even head out to China or the MLS.
But that's not the same with Cristiano as the five-time Ballon d'Or winner continues to be the difference-maker for Juventus as well as his countryside Portugal.
Moreover, a test conducted on him during his time at Real Madrid when he was 33 years old revealed that he had the physical condition of someone ten years younger than him.
Meanwhile, Cristiano Ronaldo's physical data was also brought to light again by Diario AS, who claimed that he had a fat content of 7%, as compared to around 11% for normal players. Likewise, a muscle mass of 50%, beating the usual standards by 4% yet again.
On the other hand, Ronaldo himself has on several occasions reflected on his fitness while also suggesting that he could continue playing at least when he turns 40.
Editor's Picks
'I Have To Prove Nothing To Anyone, Says Cristiano Ronaldo
How Football Legends React to Cristiano Ronaldo 100 International Goals
Weston McKennie: Playing With Cristiano Ronaldo Is an Honor
Erling Haalan Can Be As Good As Cristiano Ronaldo, Says Norway Boss
Now Ronaldo's former colleague, who also had an extended career has backed Cristiano on those suggestions. Ryan Giggs credits the 35-year old's healthy lifestyle for being the reason why he could continue at the top level for so long.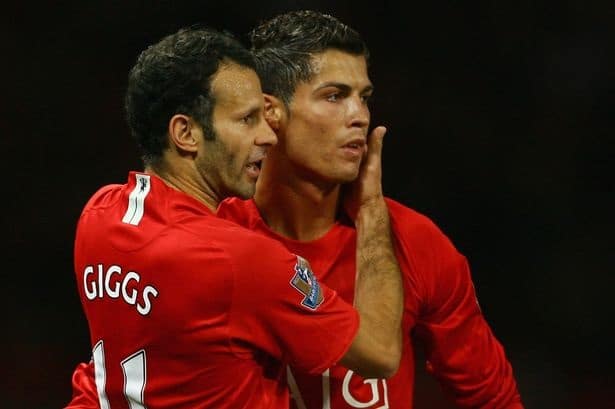 Ryan Giggs Tips Cristiano Ronaldo to Play Until He's 40.
While speaking to PA news agency, Giggs reflected on his own extended footballing career, before suggesting that Ronaldo can as well do the same.
"I was at a top club and played until I was 40, and I can see him going on and playing until he's 40 as well," Ryan Giggs told the PA news agency.
"He looks after himself – he eats right, rests right, and lives for the game – and is the best professional I ever played with."
Ryan Giggs also recalled one Cristiano's superb season at United and said he always has his health at the back of his mind.
"He was always in the gym and had it in his mind how good he could be. He scored 40 goals in one season at United and since then what he's done is remarkable."
Do you think Giggs is right that Cristiano Ronaldo can play until he's 40? Feel free to share your opinions with us via our comments section below!