Cristiano Ronaldo Cannot Do This As A Captain – Messi Lacks Leadership
Messi lacks leadership as opposed to his arch-rival Cristiano Ronaldo!
Barcelona skipper Lionel Messi has faced heavy criticism on social media for lack of leadership following a disruptive loss in the hands of the German Champions Bayern Munich. At half time, footage emerged showing Lionel Messi looking dejected in the dressing room with his shoulders slumped during the half-time break.
As his team-mates prepare to re-appear for the second period in Lisbon, the 33-year-old captain appears not to make any effort to inspire them.
Fans, meanwhile, took to social media to savage Barcelona players, and Messi was no exception after showing no leadership mentality.
After the game, Lionel Messi looked a truly beaten man after witnessing the German giants humiliate his team in their Champions League quarter-final encounter on Friday night.
In the 8:2 humbling, Barcelona let in four goals in each half, of which two came from their player Philippe Coutinho. Messi, on the other hand, struggled to establish himself on the rather one-sided clash.
However, what got every football fan talking is their skipper's inability to rally his fellow stars both on and off the field as they floundered and unfolded in an embarrassing fashion.
In contrast, Lionel Messi's arch-rival, Cristiano Ronaldo, is believed by the football community to have proved the opposite in all indications.
How Fans Perceived Messi's Shocking Attitude In the 8 Goals Humiliation
Lots of fans took to social media to criticize Messi's subdued nature, with many citing that Cristiano Ronaldo cannot behave exactly like Leo did in such an important game.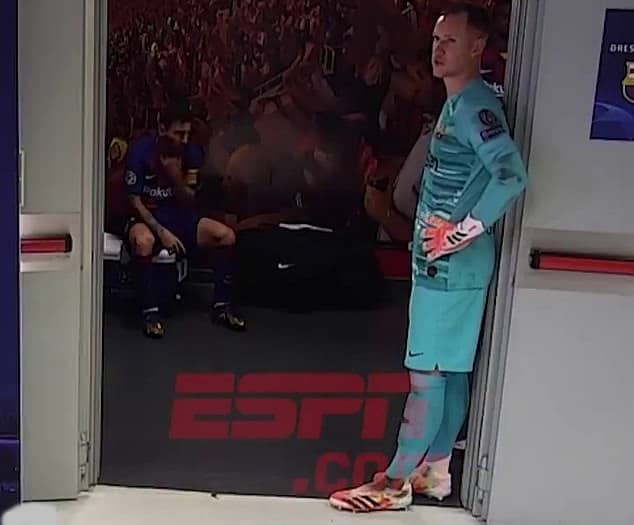 One user believes that Lionel is 'not captain material,' saying that the Barcelona players would have written the game off after only 45 minutes judging by their captain's lack of motivation.
Another fan would go on to say: "Let's be honest, Cristiano Ronaldo and Sergio Ramos don't allow that to happen. Lionel Messi and Gerard Pique looked dead and buried zero leadership."
And a third person believes that a good captain should "remain strong" regardless of the scoreline, and then added: "No wonder Barca had no morale when Messi looked like this at half-time."
Editor's Picks:
Cristiano Ronaldo Vs Lionel Messi: 5 Talking Points
Barcelona Offers Ronaldo Transfer to Make an Epic Messi Partnership
3 Times New Juventus Manager Picked Messi Over Ronaldo
Meanwhile, Juventus with Ronaldo suffered their own disappointing knockout from the tournament but the talisman made his mark as they bowed out of the competition. And once again, another social media user referenced to him.
"He'd go psycho at half-time losing 4-1. Saw none of that personality and leadership from Messi last night," said the user.
"A leader does not sit down in quietness when the team needs spirit," referring to a shocking Messi's silence in the dressing as the team crumbled.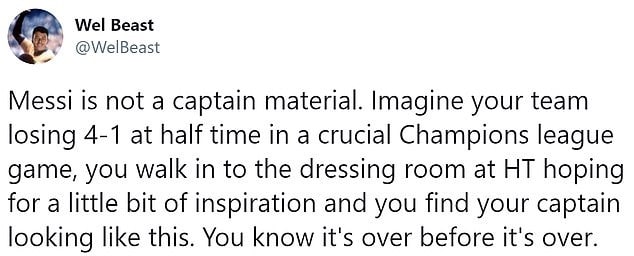 Evidently, Messi's inability to effect games during crunch European ties have been laid bare. Thus, the threat of perhaps the GOAT candidate winning just three Champions League trophies now appears ideal.
Messi's Shortcomings
In Barcelona's last five exits from Champions League, the club has failed to score in all but one game. Meanwhile, Lionel Messi hasn't recorded either a goal or an assist in the process.
Moreover, the superstar is believed to have no intentions of leaving the club, despite them looking weak. However, the club might be using the situation to salvage their summer by strengthening their team and making stable elections.
Also, Barcelona fans have been left worried due to the way the team was humiliated, and Messi was even among the players jeered when they returned to their hotel late on Friday night.
Do you think Barcelona can win the next Champions League trophy with Lionel Messi in the side?