Rivaldo Believes Messi Can End Ronaldo Accussations In UCL Tie
Brazil and Barcelona great, Rivaldo believes it is another fascinating opportunity in the Messi-Ronaldo rivalry for each man to prove a point in the Champions League. Last week, the football world was left in a state of shock when Lionel Messi's Barcelona and Cristiano Ronaldo's Juventus were drawn in Group G for the 2020-21 Champions League tournament.
Throughout the pair's illustrious career, this would be the first time they will ever come across one another in the group stage of the Champions League competition. Previously, the duo has faced each other five times, including four times in the semi-finals and once in the final itself.
Ronaldo and Messi's Champions League Meeting Date
The superstars who have 11 Ballon d'Or winners award apiece will be meeting for the first leg of their group stage clash on October 28 at Allianz Stadium in Turin. At the same time, a return fixture will follow suit at Camp Nou on December 8. The meeting will also be the first time since Cristiano Ronaldo left Barcelona's bitter rivals Real Madrid for Juventus in the summer of 2018 that the two will go head-to-head in any competition.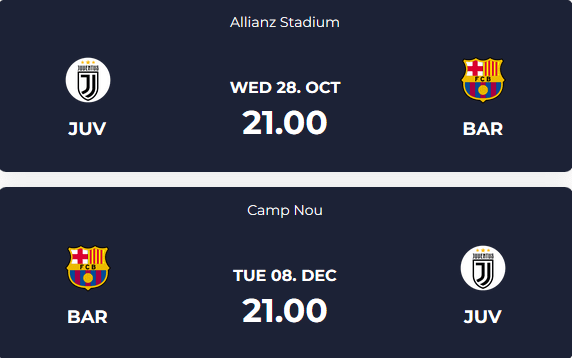 Rivaldo Shares His Opinion On the Highly-Anticipated Clash
Brazilian Rivaldo has had his opinion about the tie and he believes it an opportunity for Lionel Messi to end allegations that his level of performance has dropped since his arch-rival left La Liga for Serie A.
"Barcelona and Juventus were drawn in the same Champions League group and it will be great to see Lionel Messi play against Cristiano Ronaldo again," the ex-Barcelona man told Betfair.
Editor's Picks
Ronaldo Cannot Do This As a Captain… Messi Clearly Doesn't Have Leadership Qualities
Messi and Ronaldo Finishes Outside Top 5 In UEFA Forwards Award for the First Time In Many Years
No Messi or Ronaldo In UEFA Champions League Team Of the Season As Bayern Munich Players Dominate
Cristiano Ronaldo Vs Lionel Messi: Head-to-Head Comparison – Who Is the Best?
"It will light up the competition as the entire world will want to watch their matches. With Dynamo Kiev and Ferencvaros completing the group, Juve and Barca should easily qualify and battle for the first place."
"Some people have said Messi dropped his performance level a little bit after Ronaldo's departure from Spain, so this is an excellent chance for both players to be at their best when they face each other."
He then added that the duo had a healthy rivalry between them, and for them to be meeting once again would serve as a piece of motivation for the GOAT's candidates.
"It was always a healthy duel between them, which motivated the players, so it will be great to see this positive rivalry renewed for at least 180 minutes," said Rivaldo.
Do you think Rivaldo is right in his claims? Feel free to share your opinions with us through our comments section below!