Ronaldo Beats Messi, Immobile & Lewandowski To Remain The World's Best Goalscorer
Cristiano Ronaldo's 2020 impeccable goalscoring form has earned him the world's best goalscorer award ahead of arch-rivals Lionel Messi, Ciro Immobile, and Robert Lewandowski.
To determine the award winner, the CIES Football Observatory has examined 127 footballers in 94 top leagues worldwide to have scored at least 10 goals in 2020, and Cristiano Ronaldo was declared the most effective goalscorer in the world.
The sports research center weighed the 35-year-old's 22 goals this year with the level of competitiveness in the competitions he scored in, including Serie A and Champions League using their coefficient ranking.
Meanwhile, the study shows that Ronaldo remains the world's best goalscorer with 81.1 min/goal and 20.0 goals coefficient on the CIES website, with Ciro Immobile coming second with a ranking of 99.2 min/goal and 17.3 goals coefficient. While Robert Lewandowski came third with 84.4 min/goal and 15.3 goals coefficient.
Editor's Picks
Cristiano Ronaldo Makes History With His Brace In a 2-2 Draw Against AS Roma
Ronaldo Named The IFFHS Top International Scorer For the Fifth Time
Ramon Calderon Reveals That People Thought Gareth Bale Would Be Better Than Ronaldo
How Arsene Wenger Nearly Signed Cristiano Ronaldo and Lionel Messi As an Arsenal Manager
On the other hand, Barcelona superstar and six-time Ballon d'Or winner, Lionel Messi came a distant seventh with a ranking of 150 min/goal and a 12.0 goals coefficient.
However, the CIES named 33-year-old Brazilian Junior Negao as the top goalscorer of 2020 on 24 goals in 22 games for South Korean side Ulsan Hyundai in the K League 1.
Below is the full ranking for the CIES' most effective goalscorers showing Cristiano Ronaldo as the world's best goalscorer of 2020.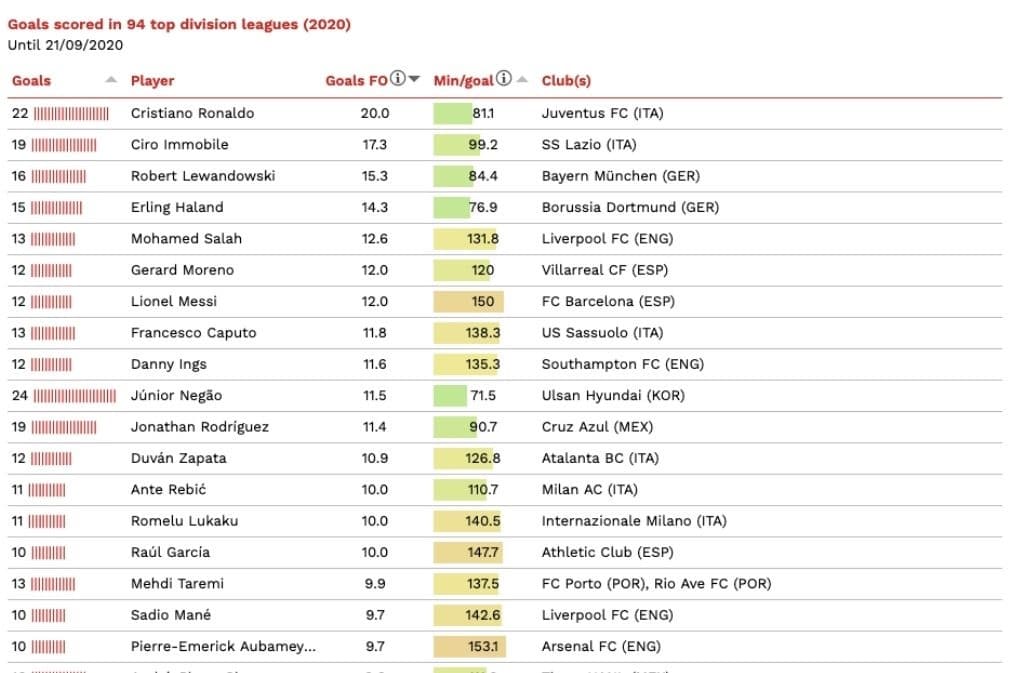 Congratulations to Ronaldo on yet another personal achievement. Feel free to use our comments section to share your opinion with us!