Stats Prove Cristiano Ronaldo Has Become More Efficient In front Of Goal Since Turning 30
Cristiano Ronaldo stats prove he has become a better goalscorer since turning 30 years. The 35-year-old forward is aging like a fine wine as his recent goal statistics show that he has become more productive in front of goal as time passes.
Currently, Pro Football DB revealed stats showing that Ronaldo's goal average has increased after turning 30 years old.
Before turning 30 years old, Cristiano Ronaldo stats show that he tallied 463 goals in 718 matches with an average of 0.64. However, the five-time Ballon d'Or winner has improved his tally since turning 30 reaching an incredible 279 goals in 299 games to take his average to 0.93.
Cristiano Ronaldo Stats At 35 Is Insane
Despite being 35 years old, Cristiano Ronaldo would never let his age weigh him down as we continue to see every day, in every game. Following the end to last season, Ronaldo had reaped the record books for the Bianconeri.
In a derby against Torino on July 4, Cristiano netted a free-kick goal, setting a new Serie A record in the process. The sensational goal saw Cristiano Ronaldo become the first player in 60 years to have found the back of net 25 times for Juventus in a single Serie A season.
The superstar would follow that up to complete a 50-career Serie A goal with his brace against Lazio on July 20. He became the first player in history to score 50 goals in Italy, England, Spain, and the Champions League.
A New Season, Different Records For Cristiano Ronaldo
With only two games played yet in this current season, Ronaldo has already made history with his unstoppable goalscoring ability. In Juventus' week two game, the superstar once again proved that age is just a number with his stunning giant leap finish to equalize against AS Roma when the game was slipping away from the Bianconeri at 2-1. The 35-year-old forward stepped up to salvage a point for the Turin outfit after Adrien Rabiot was sent off, reducing Juventus' squad to 10 men.
Editor's Picks
Cristiano Ronaldo Ranked Outside the Top 5 UEFA Forward Of the Year for the First Time in Many Years
Ronaldo Beats Messi, Immobile & Lewandowski to Remain the World's Best Goalscorer In 2020
Cristiano Ronaldo: "I See a Bright Future For Juventus"
Victor Osimhen Can't Wait to Face Off Against Cristiano Ronaldo in Serie A.
Meanwhile, Ronaldo had scored in the first half to bring Juve level at 1-1 following a penalty after Lorenzo Pellegrini blocked his attempted shot with an outstretched hand. His second of the night was enough to save the reigning Serie A champions from suffering their first loss of the season and under their new manager Andrea Pirlo. Cristiano scored his signature jump and suspended header from Danilo's cross to secure a deserved draw for the Old Lady against AS Roma.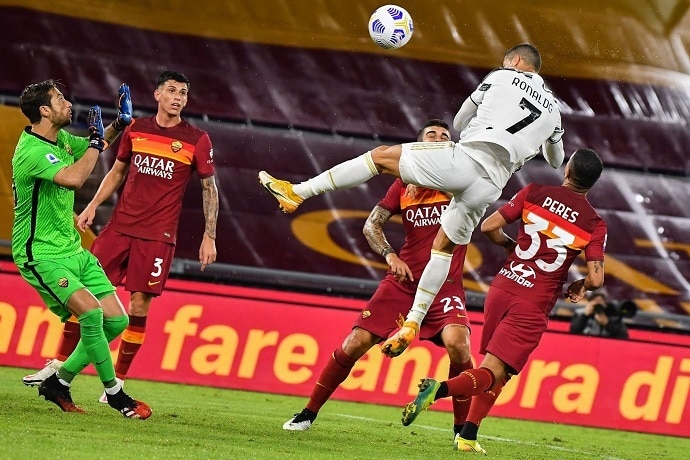 The goal was Cristiano Ronaldo's 450th goal across Europe's top five leagues, the most for any player. It was such a beautiful goal that shows how age doesn't affect the Juventus talisman to have scored such a giant leap goal.
Ronaldo Praised His New Boss Andrea Pirlo Despite His Highlight-Worthy Goal
Upon scoring such a highlight-worthy goal to salvage a point for the defending champions, Cristiano admitted that the team endured a difficult match. He then praised newly-appointed head coach Andrea Pirlo for building camaraderie in the group.
"It was an important point; it was a difficult game, we went twice behind, we were ten. We are at the beginning of the championship, with a new coach, with new ideas, we have to work, but I see a great future for this team," Ronaldo told Sky Sports after the AS Roma game.
"With Pirlo, the team works harder and is happier," added the 35-year-old forward. "The Italian league has so many strong teams; there is Inter, there is Milan, it is more difficult this year."
Meanwhile, the season is still very young, and we expect Cristiano Ronaldo to add a series of records this new season. Juventus and Ronaldo are up against Napoli on Sunday, October 4.
What's your thought on Cristiano Ronaldo stats becoming better with age? Feel free to share them with us via our comments section below!