Cristiano Ronaldo and Evra Convinced Solskjaer To Sign Bruno Fernandes For Manchester United
If you ask Manchester United club and fans, the advice from Ronaldo and Evra to their manager Ole Gunnar Solskjaer to land the Portuguese playmaker Bruno Fernandes is one of the best things that have happened to them in recent years. On arriving from Sporting FC last winter, the midfield player started turning things around for the club, helping them to a top-four finish.
Meanwhile, it's in the footsteps of Ronaldo that Fernandes followed by swapping Sporting CP for Manchester United for a fee in the region of €55m.
The 25-year-old frequently hails his idol, Cristiano Ronaldo, as the greatest he's ever seen and hopes to emulate him by enjoying a trophy-laden spell at Old Trafford.
Although silverware hasn't come his way yet, Fernandes has impressed immensely since arriving, providing 12 goals and eight assists in 22 appearances. His efforts were enough to help Manchester United finish third in the English Premier League and also make the Europa League last four.
Ronaldo and Evra, meanwhile, enjoyed a successful spell together at United before Ronaldo left for Real Madrid in 2009. Evra, before hanging up his boots later moved to Juventus, where Ronaldo is representing in Italy today.
How Ronaldo and Evra Convinced Solskjaer to Sign Bruno Fernandes
While on an interview with The Guardian, Patrice Evra revealed how Cristiano Ronaldo's sound advice helped Manchester United sign the Portuguese playmaker.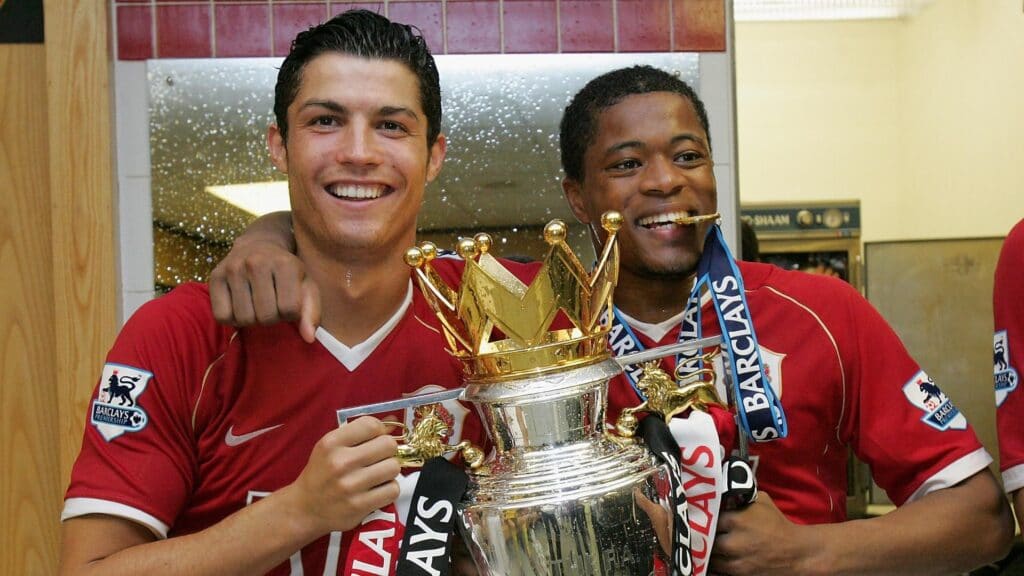 Editor's Picks
Ronaldo asks Manchester United Transfer Target to Snub United and Join Him at Juve
Bruno Fernandes Reveals Cristiano Ronaldo Constantly Asks Him About United
Manchester United Players Did This in the Team Bus As Ferguson Tried to Sign Ronaldo
PES 2021 Season Update: Ronaldo, Messi, Rashford, and Davies Stars
"United can't challenge Liverpool or Man City. Not yet. There's been massive damage, but we're moving in the right direction," Evra told The Guardian.
"When they wanted to sign Bruno Fernandes, Ole texted me. I asked for advice from Cristiano Ronaldo. Cristiano says: 'Bruno's a good guy and very professional."
"I say: 'Ole, I've spoken with Cristiano. Let's go for it.' And Fernandes had a massive impact. Without him, I don't think we would have qualified for the Champions League," he added.
The former United left full-back also revealed how Bruno Fernandes has helped Paul Pogba excel since making a return from his long term injury.
"Paul's really misunderstood," Evra said. "People talk more about his hairstyle but he's a great kid, a shy boy actually."
Evra adds that: "It was important for Fernandes to relieve that attention on Paul. It wasn't fair. Paul is a happy person, and we have been close for so long. He Facetimed me yesterday at 11:30 pm. I said: 'Paul, I'm in bed. Let me sleep."
Ronaldo so much hearts Manchester United! What do you think? Feel free to share your thoughts with us via our comments section below!