The 5 Greatest Managers Of Cristiano Ronaldo's Career So Far
Today we take a review on the top 5 greatest managers, who have played a big impact on Cristiano Ronaldo's brilliant career so far. From Sir Alex Ferguson in his Manchester United days to now Andrea Pirlo, Cristiano Ronaldo certainly has had his fair share of different managers throughout his career.
The Portuguese and Juventus star worked under 10 different coaches in his club career, and four for the Portugal national team. Each of them, of course, has always hailed him for his outstanding work-ethic above all.
Thus, let's take a look at the 5 greatest managers of the 36-year-old's career.
Fernando Santos / Portugal [2014 – Present]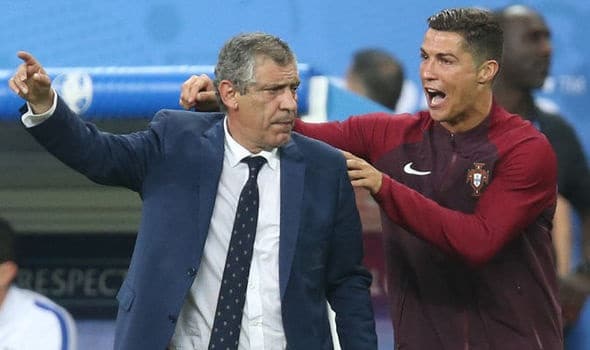 The Portugal boss actually managed a teenage Ronaldo briefly during his Sporting CP days before he made the famous decision of playing the youngster against Manchester United in 2003.
"I was the coach when Sporting played United," Santos said 13 years later.
"I played Cristiano Ronaldo and later wished I hadn't. A week after [Ricardo] Quaresma left to join Barcelona, then two days later Cristiano Ronaldo was on his way to Manchester."
The duo, however, were reunited in 2014 when the Portuguese FA appointed Santos as Paulo Bento's replacement.
Cristiano has since enjoyed his most prolific spell in a Portugal jersey, and won the European championship and Nations League in the last five years.
[Games: 58, Goals: 52, Assists: 9]
Zinedine Zidane / Real Madrid [2016 – 2018].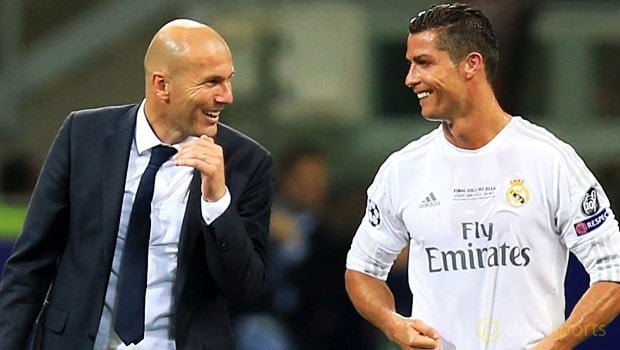 Zinedine Zidane and Cristiano Ronaldo could be what a team needs to win silverware and loads of goals. The duo reached heights that were previously unimaginable by leading Real Madrid to three successive Champions League glory.
Six other trophies following, including one La Liga crown and two FIFA Club World Cups, during a two-and-a-half-year stint.
"Zidane made me feel special," Ronaldo told DAZN.
"He helped me a lot. I already had a lot of respect for him but working with him made me admire him more."
"That's because of what he's like as a person, how he talks, how he led the team and how he treated me."
"He'd tell me, 'Cris, relax and just play your game – you are the one who is going to make the difference."
"He was always honest with me and that's why I'll always have a real affection for him."
[Games: 114, Goals: 112, Assists: 29].
Editor's Picks
Top 7 Greatest Quotes About Cristiano Ronaldo By Footballing Legends
The Football Records That Only Cristiano Ronaldo Unbelievably Holds
The Highest-Scoring XI In Football History – A Team Of Legends
Top 10 Players With The Most Hat-Tricks In The 21st Century
Jose Mourinho / Real Madrid [2010 – 2013]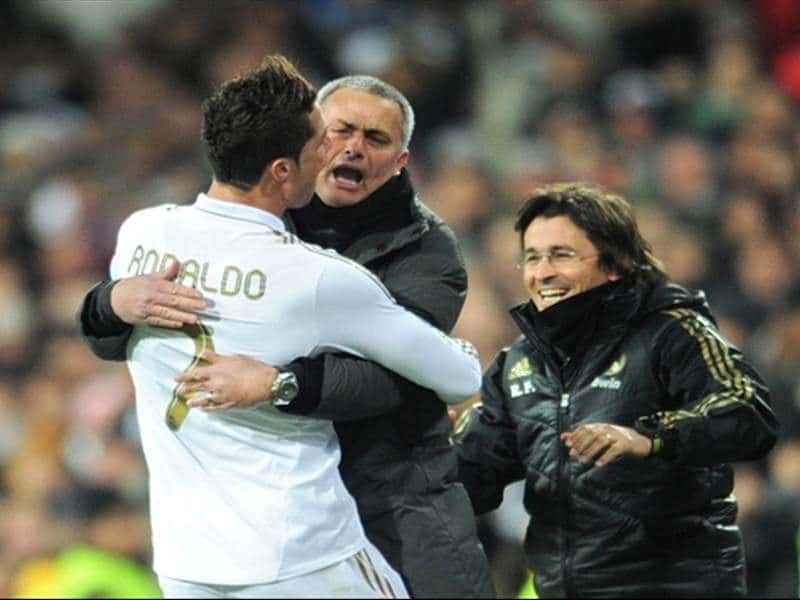 When the Special One and the five-time Ballon d'Or winner worked together at Real Madrid, they always set pulses racing.
One thing that anyone would have expected is bust-ups, which were a common thing between the duo, especially during Mourinho's debut campaign at the Santiago Bernabeu. In fact, Emmanuel Adebayor recalled how Mourinho 'killed' Ronaldo after scoring a hat-trick.
The now-Tottenham manager upset Ronaldo by constantly employing his ultra-defensive tactics. Cristiano himself even confessed it following a Champions League semi-final defeat to Barcelona in 2011.
But Mourinho didn't take kindly to this and dropped Ronaldo from the squad for Los Blancos' next game. Although Jose was later made to pay for this decision as he suffered a shock 3-2 defeat to Real Zaragoza at home.
Eventually agent Jorge Mendes forced the pair to make-up.
Despite the ups and downs, Ronaldo enjoyed the most prolific spell of his career under Mourinho in the end.
[Games: 164, Goals: 168, Assists: 49].
Carlo Ancelotti / Real Madrid [2013 – 2015]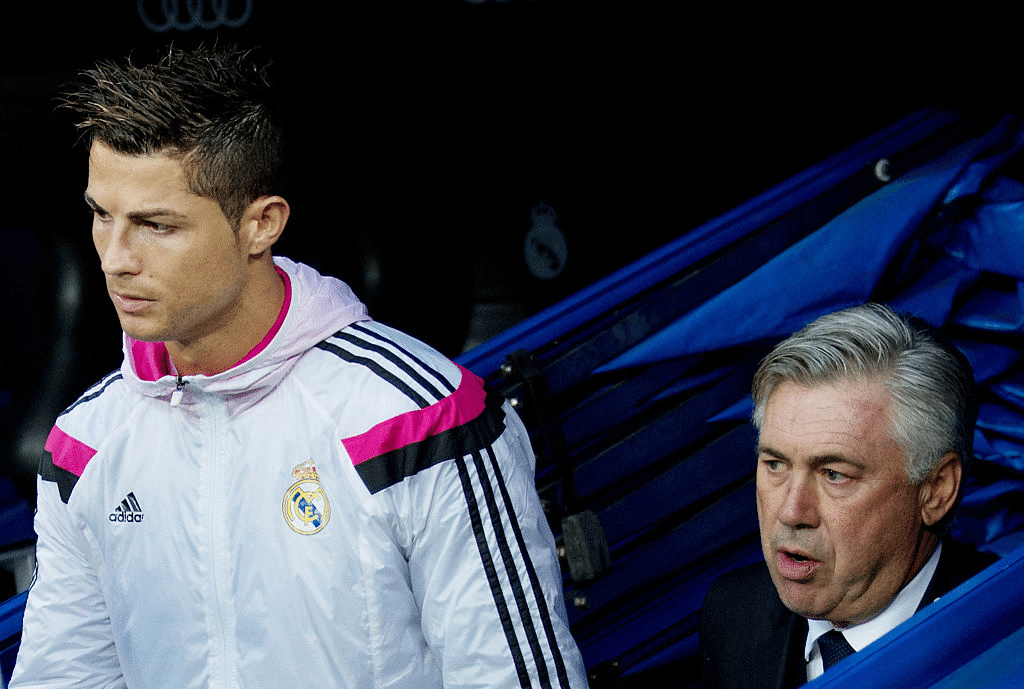 Ancelotti and Cristiano Ronaldo enjoyed a superb two years together, which saw the Portuguese win his second Champions League title in the 2013-14 season.
The Italian is obviously one of the greatest managers of Cristiano Ronaldo's career, who pushed the Portuguese out of his comfort zone by making him play as a center-forward instead of a winger at times. Ancelotti's new playing style, in fact, yielded some great results and was a breath of fresh air from the Mourinho era.
He later led Real Madrid to their first-ever Club World Cup title in December 2014 along with a UEFA Super Cup earlier on.
The following season, Los Blancos would finish just two points behind La Liga champions Barcelona with a league-best of 118 goals.
[Games: 101, Goals: 112, Assists: 46].
Sir Alex Ferguson / Manchester United [2003-2009]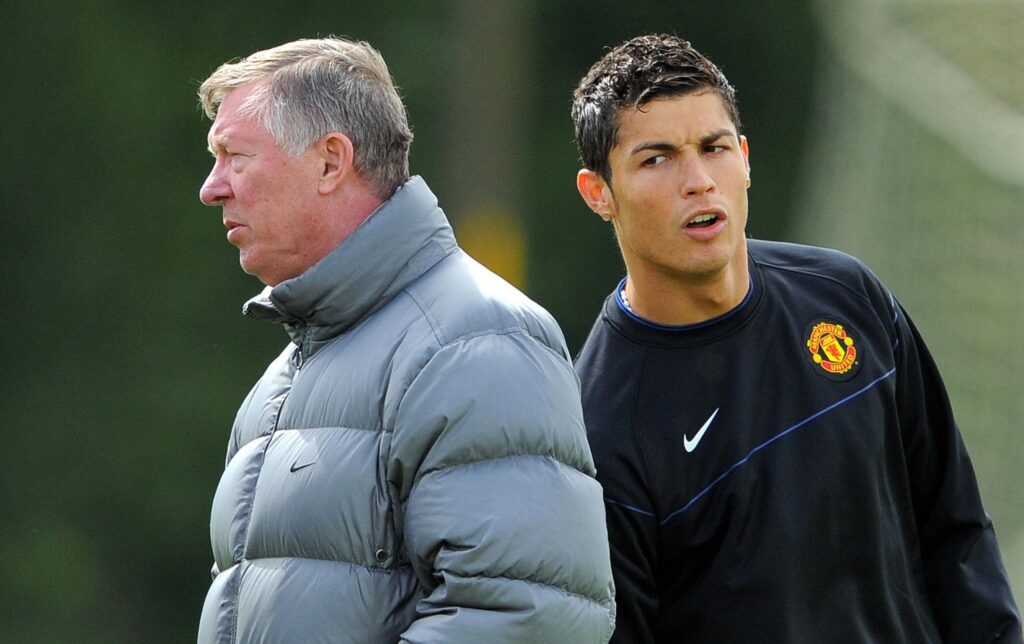 The Manchester United legendary manager and one of the greatest managers of all-time in football history was a father-figure for Cristiano Ronaldo during his early footballing days.
Cristiano even once claimed that Ferguson "taught me everything," and still keeps in contact with his old boss.
The Scottish manager instilled confidence in Ronaldo right from the start by handing him the iconic No.7 jersey, which was the like of Eric Cantona and David Beckham had previously worn.
Sir Alex later taught him how to maximize the productiveness of quick feet and ball control skills. All of a sudden, the young star could race past defenders in a flash instead of wasting time doing some flashy step-overs.
It is clear Ferguson made the biggest impact on Ronaldo's rise to stardom and deserves the mantle of greatest managers of Cristiano Ronaldo's career so far!
[Games: 292, Goals: 118, Assists: 73].